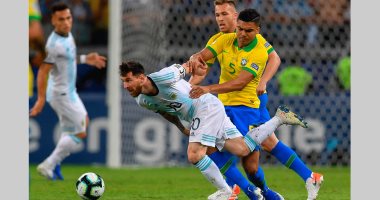 Brazil will host Argentina in a hot Clasico, at 9:00 pm, at the Arena Corinthians in Sao Paulo, as part of the postponed sixth round matches of the South American qualifiers for the 2022 World Cup.
The International Football Association "FIFA" had announced the holding of two additional rounds of the 2022 World Cup qualifiers for the South American continent, during the international break in the months of September and next October, and the two rounds that were supposed to be held last March (the fifth and sixth), were postponed. due to the Corona virus crisis.
The Brazilian national team enters tonight's match, and is at the top of the qualifiers with 21 points, from winning all its previous seven matches, while Argentina is in second place with 15 points from winning in 4 matches and drawing in 3.
In the previous round, Brazil beat Chile 1-0, while Argentina beat Venezuela 3-0.
Tonight's match is a repetition of the 2021 Copa America final, which was held last July, during which Argentina won their fifteenth title in the tournament, with a goal that came from Angel Di Maria.
The Brazilian national team suffers from wholesale absences, most notably the nine players who play in the English Premier League, after the Premier League refused to allow international players to play matches on the international agenda in countries outside the red list, otherwise they will have to spend a 10-day isolation period after their return from participating in the matches.
The Russian Zenit duo, striker Malcom and Claudinho, are also absent, after the Russian club's management refused their continuation in the Seleção team.
As for the Argentine national team, led by the star Lionel Messi, it seeks to achieve a victory over its Brazilian counterpart, although it was not confirmed after Al-Flea's participation in the match as a result of the injury he suffered in the last Venezuela match.
Brazil will meet in the next round of World Cup qualifiers against its Peruvian counterpart next Thursday, while Argentina will meet with Bolivia.