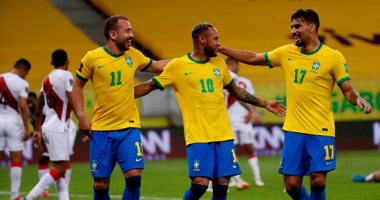 Brazil beat its host Peru by a clean double, in the match that brought them together in the early hours of Friday morning, at the Arena Pernambuco in Recife, as part of the tenth round of matches of the South American qualifiers for the 2022 World Cup.
Brazil's two goals came in the first half of the match, Everton Ribeiro opened the scoring in the 14th minute of the match, after following a cross from Neymar, who met it in the Peruvian net.
Neymar added the second goal of the Seleção team in the 40th minute, after following a rebound from the Peruvian team's defense to easily put it in the net.
Neymar became the historical top scorer for the Seleção team in the World Cup qualifiers with 12 goals, overtaking former star Romario 11 goals, equal with Zico.
The result remained the same in the second half, amid attempts by the stars of the Brazilian national team to add other goals, to end the match with a clean double.
The Brazilian team strengthened its lead in the ranking of the South American qualifiers for the World Cup Qatar 2022, with 24 points, 6 points ahead of its Argentine rival, the runner-up with 18 points, while Peru's balance stopped at 8 points in seventh place.
The Brazilian national team suffered from wholesale absences, most notably the nine players who play in the English Premier League, after the Premier League refused to allow international players to play matches on the international agenda in countries outside the red list, otherwise they will have to spend a 10-day isolation period after their return from participating in the matches.
The Russian Zenit duo, striker Malcom and Claudinho, were also absent, after the Russian club's management refused their continuation in the Seleção team.