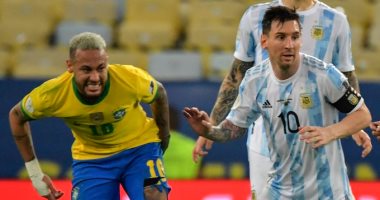 The Brazilian national team outperforms its Argentine counterpart in terms of the marketing value of the players, before the Super Clasico, which will be held at nine in the evening, Sunday, at the Arena Corinthians, in the sixth round of qualifiers for the South American qualifiers for the 2022 World Cup in Qatar.
The marketing value of the Brazilian team, according to the global "Transfer Market" website, amounted to 972.5 million euros, compared to the value of the Argentine team's 722.5 players, to exceed the total value of the global football summit barrier of one billion and a half, specifically up to one billion and 695 million euros.
The Brazilian star Neymar da Silva is the most expensive Seleção player with a marketing value of 100 million euros, followed by Marquinhos with a value of up to 75 million euros, and then Real Madrid star Casemiro comes in third place with 70 million euros.
While Inter Milan striker Lautaro Martinez tops the list of the most expensive in the Argentine national team, with 80 million euros, equal to Argentine star Lionel Messi, the newcomer to Paris Saint-Germain.
The Argentine team hopes to confirm its superiority against the samba stars in order to promote early qualification for the World Cup.
Brazil raised its score to 21 points at the top of the South American qualifiers table, after defeating its host Chile, with a clean goal, in the meeting that brought them together in the early hours of Friday morning, at the "Monmental David Orlano" stadium, in the capital, Santiago, in the ninth round matches. from the playoffs.
Brazil is 6 points ahead of runner-up Argentina, with 15 points, who beat Venezuela 3-1.