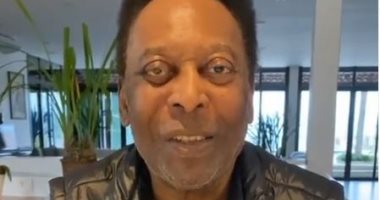 Media reports revealed that Brazilian football legend Pele was returned to the intensive care room, a few days after leaving, after he underwent surgery to remove a colon tumor.
According to "Sky News", the former Brazilian star, Pele, has been returned to intensive care after falling ill while he was still in Albert Einstein Hospital in Sao Paulo, Brazil.
The hospital has not yet issued an official statement regarding the condition of the famous footballer since the news broke.
And the Brazilian football legend, Pele, had reassured his fans and fans around the world, of his condition after his recent illness, stressing that he had been released from the intensive care room and that his health was good and ready to play a 90-minute match and also in overtime, thanking thousands of his fans for their support. Messages of support and love.
And Pele published a picture of him on his Instagram account, after leaving the care room, accompanied by a comment: "My friends, this is a message for each of you, do not think for a minute that I did not read the thousands of loving messages I received here, thank you very much to each of you who dedicated a minute From his day to send a message of positive energy of love, love and love."
Pele added: "I have already left the intensive care unit and I am in my room, I continue every day happier, with a lot of preparation to play 90 minutes, plus extra time, we will be together soon."