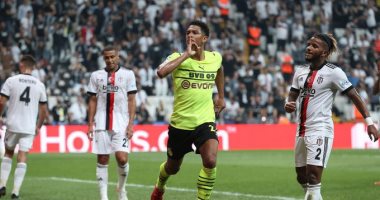 The young Englishman, Jude Bellingham, star of the German team, Borussia Dortmund, entered the history of the Champions League, after he scored his team's first goal against its Turkish host, Besiktas, in the match that will be held at the "Vodafone Arena", in the matches of the first round of the third group of the group stage of the Champions League. Europe season 2021-2022.
Bellingham scored Dortmund's first goal in the 20th minute with a powerful shot from inside the penalty area, before Erling Haaland scored the second goal in the 45th minute, ending the first half with a double by the Westphalia Lions.
And the "Opta" statistics network reported that Bellingham became the youngest player to score in two consecutive Champions League matches at the age of 18 years and 78 days, to break the number of Kylian Mbappe, the star of Paris Saint-Germain (at the age of 18 and 85 days in March 2017)..
The third group also includes the Portuguese Sporting Lisbon and Ajax Amsterdam teams, and the match will be held between them at nine in the evening.
Roze, coach of the Borussia Dortmund team, has a number of distinguished elements in the Lions of Westphalia squad, led by young star Erling Haaland and Marco Reus in the offensive line.
The Besiktas team, the champion of the Turkish league last season, and its glowing locally, will play the Borussia Dortmund match with the aim of winning and achieving the first points in the big struggle to qualify for the next round of the European Champions League.
Borussia Dortmund

Goalkeeper: Kopel
Defense Line: Meunier – Akanji – Hummels – Guerrero
Midfield: Bellingham – Mahmoud Daoud – Brandt
Forwards: Reus – Malin – Haaland