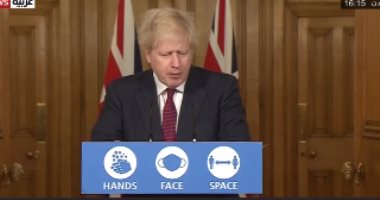 The British Prime Minister, Boris Johnson, commented on the advent of the new year, saying that it is a wonderful moment, our freedom is in our hands and it is up to us to benefit from it to the fullest extent, explaining that there is still an arduous struggle after the emergence of a new strain of Corona in Britain.
According to Russia Today, Boris Johnson said: When the sun rises tomorrow in 2021, we will be sure that we have the vaccines made in a kingdom that is free to act, and maybe if the need arises better than what our friends in the European Union do, and we are free to do business in All over the world … and we are free to activate our ambition to become a scientific superpower.
The British Prime Minister referred to ambitions in biological sciences, artificial intelligence, savings technology and wind energy, calling for the consolidation of the unity of the United Kingdom's entities after the tensions exposed by Brexit from the European Union..