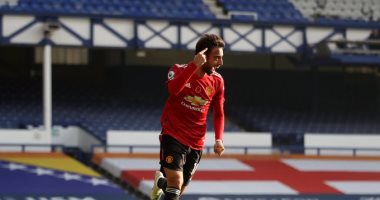 Portuguese midfielder Bruno Fernandez, the Manchester United midfielder, has entered the interest of Real Madrid and Barcelona, ​​the two Spanish giants, to sign him at the end of the current season.
Bruno Fernandes has presented a distinguished level with Man United since the start of the current season 2021-2022, as he played 4 matches in the English Premier League and scored 4 goals, in addition to a wonderful assist in the Champions League for his compatriot Cristiano Ronaldo.
And, according to the British newspaper, "The Sun", Bruno Fernandes has become the path of interest for the two giants of Spain, Real Madrid and Barcelona, ​​after the wonderful performance he showed with the start of the current season 2021-2022.
She added that Real Madrid and Barcelona will closely follow the negotiations to renew Manchester United with Bruno Fernandes, in preparation for opening negotiations with the Portuguese star.
After the departure of Lionel Messi from Barcelona, ​​​​Barcelona can enter strongly in the race to sign one of the players with a great future.
Real Madrid will compete strongly in the battle for Bruno Fernandes, especially after the sale of players such as Varane and Martin Odegaard, which could leave room for Fernandes to join alongside their main target, Kylian Mbappe.
And press reports have confirmed that Manchester United is close to signing a new contract with Bruno Fernandes, with a salary of up to 250 thousand pounds per week, after the remarkable brilliance of the Portuguese player, since joining the team in January 2020, coming from Sporting Lisbon in The deal amounted to 60 million pounds.
Negotiations between United and Bruno began months ago in order to sign a new contract, in which the Portuguese player's salary in the new contract will increase by 100,000 pounds over his current salary, which is 150,000.