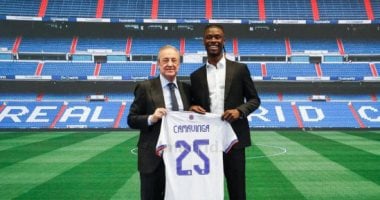 Frenchman Eduardo Camavinga expressed his great happiness at joining Real Madrid, in statements on the sidelines of his presentation to the media this evening, Wednesday.
Camavinga said in a press statement, "I am very happy and proud to be here, I thank the president of the club and my family, because they made it possible for me to be here, as they told me a few years ago, Hala Madrid.".
And the French star continued: "The moment I learned that I would become a Real Madrid player, I was very happy, I thought about the difficult times I had with my family and I am happy for them.".
And the new Real Madrid player continued: "I will work hard and give everything I have in training to be ready whenever the coach needs me, and my move to Real Madrid was not because of money, but to achieve my dream that I have always dreamed of since I was young, and I did not hesitate for a second to accept the offer and I knew how far Royal interest in contracting with me two years ago".
He added about his preferred position, saying: "I like to play in front of the defensive midfield, but I can also advance and participate in the offensive aspects and I have the ability to adapt to any position and certainly I need some time, but I feel ready for Sunday's match against Celtva Vigo, but the coach's final decision.".
The Frenchman continued: "I have great memories with Real Madrid, especially in the Champions League, in addition to Ronaldo, Zidane and Figo as the best players.".
He continued: "I want to be in the French national team and that will only come by playing well with Real Madrid".
He concluded his statements: "I consider Benzema an example for all the French, he treats everyone very well and this is clear with Vinicius, and I want to learn from all the players at Real Madrid."".
The president of Real Madrid, a competitor in the Spanish League, welcomed the new deal and the first-team midfielder, Eduardo Camavinga, who moved to the royal from Rennes last summer Mercato..
Camavinga moved to Real Madrid for the next 6 years until June 2027, for a fee of 31 million euros, and the 18-year-old will wear the number 25 shirt..
Perez initially spoke about Camavinga's joining and said at the press conference, "You will defend a shield that has the highest record in football history and has values ​​that millions of people in the world know themselves."".