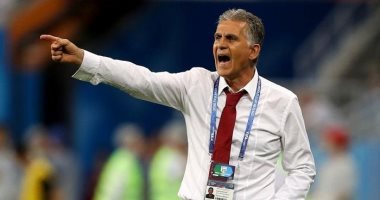 The Egyptian Football Association decided that the 68-year-old Portuguese coach, Carlos Queiroz, took over the training of our national team, replacing former coach Hossam El-Badry, who left the training of the Pharaohs team after a 1-1 draw with its host, the Gabonese team, last Sunday evening, in the round matches. The second for Group F, in the African qualifiers for the 2022 World Cup in Qatar.
Queiroz will be at the head of the technical staff of the Egyptian team, which consists of: Diaa El-Sayed as general coach, Mohamed Shawky as coach, Essam El-Hadary as goalkeeper coach.
The Portuguese coach has great tactical flexibility with the clubs and teams he trained during his career, by using more than one method of playing during matches, although he relied more on the 4-2-3-1 method, which is the same method followed by his Scottish mentor, Sir Alex. Ferguson with Manchester United.
Queiroz, during his training for Real Madrid, relied on the 4-2-3-1 method, and used it in some matches to increase the attacking power to 4-1-3-2.
The new coach of our national team followed the 4-3-3 method of playing when he was leading the Portuguese national team, but he returned to his usual method 4-2-3-1, when the Iranian team took over, while also relying on the method of playing 4-4-2 and 4-1 – 4-1 in a number of matches.
Finally, with the Colombian national team, he started in his usual way, but changed the method at the end of his career with the team by relying on the 4-3-3 method.
Queiroz is the first Portuguese coach to lead our first team throughout its history, and he is the 21st foreign coach who leads the Pharaohs team.
Queiroz, 68, has great experience, having coached Portugal and Iran, led Real Madrid, and worked as an assistant to Scottish coach Alex Ferguson at Manchester United.
Queiroz won the Spanish Super Cup with Real Madrid, the Portuguese Cup and the Portuguese Super Cup with Sporting Lisbon, and the Under-20 World Cup twice with the Portugal national team.