The Palestinian-American billionaire, Muhammad Hadid, celebrated the birthday of his daughter, international model Bella Hadid, who turns 25, today, Saturday, as she was born on October 9, 1996, and "Hadid" published a group of photos of his daughter in different stages of her life from childhood until she became a young woman. .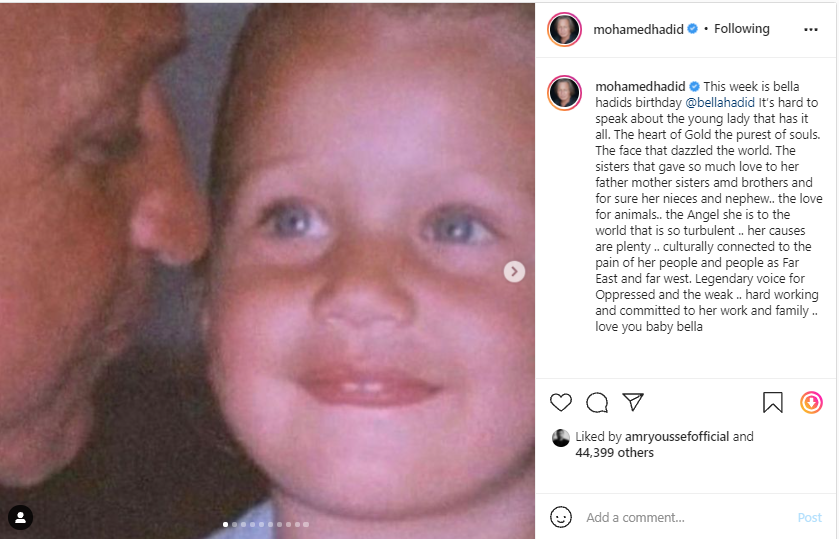 Mohamed Hadid celebrates Bella's birthday
Muhammad Hadid commented on the photos he posted on his Instagram account, "This week is Bella Hadid's birthday. It's hard to talk about the young woman who has everything.. a heart of gold from the purest souls.. the face that dazzled the world.. who gave a lot of love to her father, mother and sisters.. and certainly her nieces and nephews.. and love of animals.. and she works hard and is committed to her work and her family.. I love you, my little Bella."
Bella Hadid as a little girl
Bella Hadid in childhood
Bella Hadid kisses her dad
Bella Hadid with her father
Mohamed Hadid kisses his daughter Bella Hadid
Two days ago, Mohamed Hadid shared a picture of his daughter, international model Bella Hadid, with his followers, where he posted a picture of him looking lovingly at a poster for his daughter on a street, accompanied by a comment on his account on the "Instagram" website: "It is my pleasure to stop and say hello. You didn't say much but your smile said it all.. I love you too Bella."
Bella Hadid in youth
International supermodel Bella Hadid
Bella Hadid
Bella Hadid is radiant in her youth
Bella Hadid while participating in an event
When celebrating the birthday of one of his daughters, Mohamed Hadid is keen to dedicate a whole week to her, in which he publishes her photos through his account on Instagram and elaborates on talking and expressing his feelings towards them.
And Bella Hadid, earlier, shared her followers and fans from all over the world, behind the scenes of the birthday of "Khai", the daughter of her sister, supermodel Gigi Hadid, where she published several pictures from the birthday celebration through her personal account on the Instagram website, in the presence of a number of their friends. And close ones, in addition to the presence of their father, the American billionaire, Mohamed Hadid.
Bella sent a Ghazal message to her sister and daughter on that occasion, saying, "Seeing my sister is the greatest mother with her most charming daughter, is the greatest joy in my life," and soon the post won a large number of comments and likes..