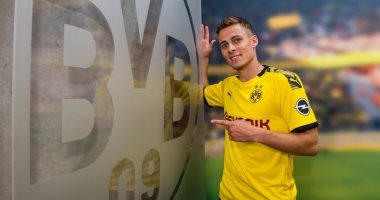 Borussia Dortmund announced the loss of striker Thorgan Hazard's efforts against its host Besiktas, tomorrow, Wednesday, in the match that will bring them together in the Champions League group stage, while defender Mats Hummels was confirmed to be ready to participate in the match.
Belgian Hazard did not recover from a bruised ankle, and joined the list of absentees from the team's trip to Istanbul, which includes Giovanni Reina, Emery Chan and Nico Schulz.
But Hummels, 32, recovered from a knee injury and participated in the exciting match that Dortmund won over Bayern Leverkusen 4/3 in the German League (Bundesliga) last Saturday, and joined the travel list.
The Dutch team, which won the title four times, will meet Sporting Lisbon on the same day in Group C competitions, which includes Dortmund and Besiktas.
On the local level, Borussia Dortmund turned the table on hosting Bayer Leverkusen, and won four goals against three, in the confrontation that took place between them at the "Bay Arena", in the fourth round of the German League Championship 2021, after turning its delay by two goals when The score was 3-1 to a valuable win.
With this result, Leverkusen ranked fourth in the standings with 8 points, while Dortmund raised its score to 9 points, in second place behind leaders Wolfsburg with 12 points, which beat Gruether Fort 2-0.