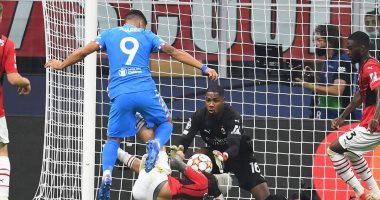 Some of the headlines that occupied the covers of Italian sports newspapers today, Wednesday, described Atletico Madrid's 2-1 victory over AC Milan in the Champions League, thanks to a penalty awarded to the Spanish team in the 96th minute, as "theft" and "a fake penalty".
The headline of the newspaper (La Gazzetta dello Sport) "Theft of Milan", also considered that the penalty awarded to Atletico due to a handball on Frenchman Pierre Kalulu in the penalty area, and Uruguayan Luis Suarez scored the winning goal, was an unfair penalty.
She also questioned the second yellow card obtained by Ivorian Frank Kessie, on the basis of which the Milan midfielder was sent off after half an hour of the match, when his team was leading with a clean goal and controlling the match.
According to the Italian newspaper, Milan paid the price for the mistakes of the Turkish referee Konit Şakir, as well as the mistakes of the video assistant referee, who, according to the newspaper, did not intervene to correct the referee's decisions.
The newspaper (Corriere dello Sport) also strongly criticized the referee, and considered the penalty awarded to Atletico "unfounded". According to this newspaper, the Atleti player, Thomas Lemar, was the first to touch the ball with his hand before Kaloulo did it.
Tuttosport, an Italian newspaper usually defending Juventus, wrote on its front page, "Milan robbery."
Milan lost 1-2 in San Siro, despite his advance thanks to Portuguese Rafael Leao, but the matter became complicated for him after the expulsion of Ivorian Frank Kessie, so that Atletico Madrid could return in the last minutes with a goal signed by Frenchman Antoine Griezmann (s 84) and another by Uruguayan Luis Suarez ( s 96) with a penalty kick.
Liverpool leads the second group standings in the Champions League, with 6 points, followed by Atletico Madrid (4 points), Porto (one point) and Milan (no points).