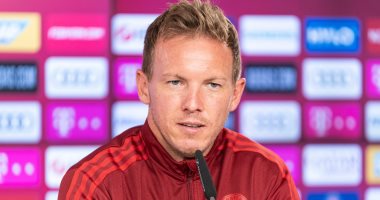 Bayern Munich coach Julian Nagelsmann confirmed that his team is ready to face its Ukrainian counterpart, Dynamo Kiev, tomorrow, Wednesday, at Allianz Arena, in the second round of the group stage of the Champions League..
Champions League

"There are 3 points available to seize, we want to win and stay at the top of the group," Nagelsmann said in the press conference today, Tuesday, about Bayern's readiness.."
And the Bayern coach continued: "It's for sure that we are one of the favorites, if you want to win this title, you have to win the most matches in the end, we want to do that.".
Champions League

And he added about Alfonso Davies' position by saying: "In general, we are always changing. Alfonso always has to play in a different position, it depends on who plays next to him. The coach's job is to put the players in the best position for them, but I also ask flexibility from the players.".
He also touched on the international break at the beginning of next month, saying: "Of course, national team coaches also want their best players on the field, in the end, it is important to have good communication between clubs, team coaches and medical departments, we have to make sure that we give the players periods of time. necessary rest".
Champions League

And he revealed the position of the French winger Kingsley Coman from participating in tomorrow's match against his Ukrainian counterpart, Dynamo Kiev.
The Bayern coach said at the press conference: "Koman is in good shape, he smiles a lot and he is happy".
He added: Koeman will not play tomorrow.
And he concluded his speech: We have already decided before he underwent the surgery that we will allocate him two weeks to get him back to full fitness".