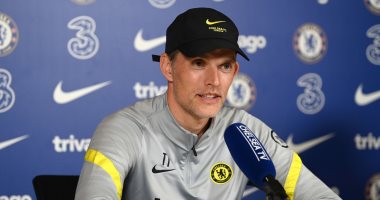 Chelsea coach Thomas Tuchel confirmed the readiness of Belgian star Romelu Lukaku to face Aston Villa, scheduled for 6:30 pm, tomorrow, Saturday, in the fourth round of the English Premier League for the 2021-2022 season. .
Lukaku had complained of injury after participating with Belgium in the first two matches of the World Cup qualifiers last week, and he missed the third match against Belarus.
To saidHe told the match press conference about the international break: "It was a break time for the coaches, the guys who are here, today was the first day everyone came back.".
Regarding the absences against Aston Villa, he said: "Kante and Pulisic Outside of facing Aston Villa, we hope that N'Golo's return will be on Tuesday against the Champions League, Pulisic is facing 10 days out of the team due to an ankle injury.".
On Lukaku's readiness, Tuchel continued: "He trained fully today, and there are no problems at all".
Regarding the decision to stop South American players from playing due to the quarantine, he explained: "Of course, for clubs and national teams, it does not make sense for anyone to stop the players, the players want to play as well as their clubs and teams."".
He continued:Thiago Silva so far is not out of facing Aston Villa due to the decision to ban the Brazilian players, negotiations are still going on".
Tuchel said of newcomer Saul: "I was a bit worried about going into a season with Jorginho, Kovacic and Kante only, not because of the lack of quality, but in terms of not being able to predict what would happen, there are many games to come.".
On the contract with Saul, he said: "We were not desperate to sign him at the last minutes, I have known him for many years, so when the situation was finally, it was possible to get him on loan, we were excited, he is the character we need in our team".
About his team, he said:I am very happy, we do not have the largest team in terms of number, as it is now when we are missing some players, but we have a strong team in terms of quality and character, I am happy that Saul has become such a big part of our team".
On the proposal to hold the World Cup every two years, Tuchel said: "I just read some of the headlines, and I don't even know the idea behind it, I would like to give everyone a chance to explain how and why? It is difficult for every club to accept that after the European Championship and the Copa America".
And on Manchester United being a contender for the title after the arrival of Cristiano Ronaldo, Tuchel indicated: "Their transfer period was wonderful, it was very difficult to defeat them last season, they were close in the league, they were strong before the arrival of Cristiano Ronaldo.".
On Ronaldo's return to Man United, Ronaldo explained: "His arrival makes things more difficult for us. Man United were on the verge of winning the European League. They were strong before his arrival. He will have a great impact because he is a real champion.".
To saidImagine the transfer market for clubs competing in the league: "They bring a new spirit, they bring competition, they are hungry and that lifts everyone up.".
And about Lukaku's double AndWerner together in attack, Tuchel said: "Yes, of course, I am sure we will find the right matches and solutions to play with both Timo Werner and Romelu Lukaku, they can be suitable together.".
He continued, "The Club World Cup is held in December and no one knows how many matches, if you have an injured player, and another suspended, you are in danger of increasing the burden on the players, so we were looking to add a player and Saul was on Chelsea's radar for many years, I was fighting from He postponed it to other clubs but that is no longer impossible".
Regarding the crowded schedule of matches, Tuchel explained: "The number of matches is too many and this does not help in watching high quality matches. I love watching football and I love watching quality in it. I love matches when the players are sharp and present physically and mentally.".
Chelsea is fourth in the English Premier League table with 7 points, two points behind leaders Tottenham Hotspur, while Aston Villa is in eleventh place with 4 points.