We all want to wear flawless clothes, although it is a lot about experience, benefiting from others can reduce the size of mistakes and make them easy to correct, and perhaps this is what makes us follow the looks of celebrities and fashion icons in the world, to inspire our distinctive looks from them, they are They often give us free lessons in choosing clothes and accessories, and even in picking the latest makeup trends.
The Palestinian-American model, Gigi Hadid, is one of the most famous fashion icons in the world who is followed by the eyes and lenses of photographers wherever she goes, as she has a wardrobe full of wonderful styles, trends and colors that can be inspired by many.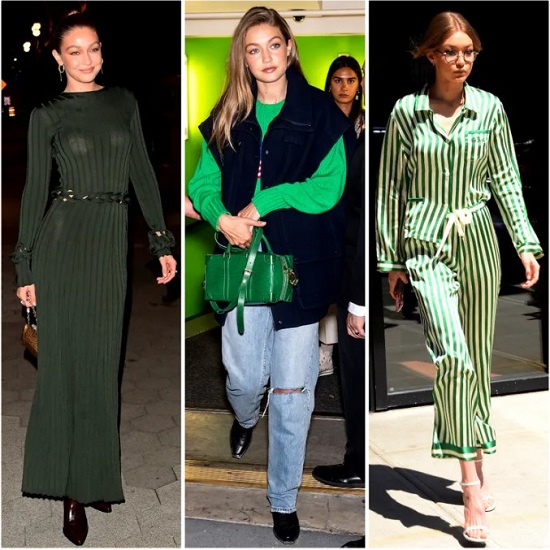 Gigi Hadid with a distinctive green look
Green is a distinctive trend in her wardrobe, and it is a popular color in the fall season, as it breaks the gloom that dominates the atmosphere sometimes due to the fluctuations of the weather.
In this report, we monitor the most prominent looks of Gigi Hadid in green, which can be benefited from, and inspired a lot by it during the fall season, according to the "e times" website.
Gigi Hadid's best green looks

Gigi Hadid wore a long, dark green ribbed split dress, from the collection done lee For Spring/Summer 2020, she features braided details around her waist and wrists, and she complements her looks with double earrings, a small gold chain bag and pointed heels..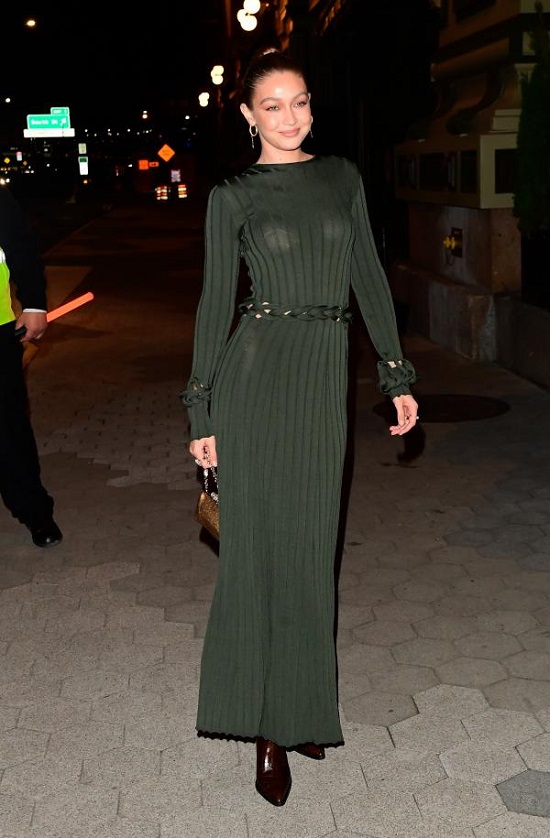 Gigi Hadid in a distinctive green dress
Gigi Hadid gave many a lesson in how to wear pajamas to go out. She wore a green and white striped silk set, which she coordinated with sandals from Morgan Lane And she added to the group an elegant white belt.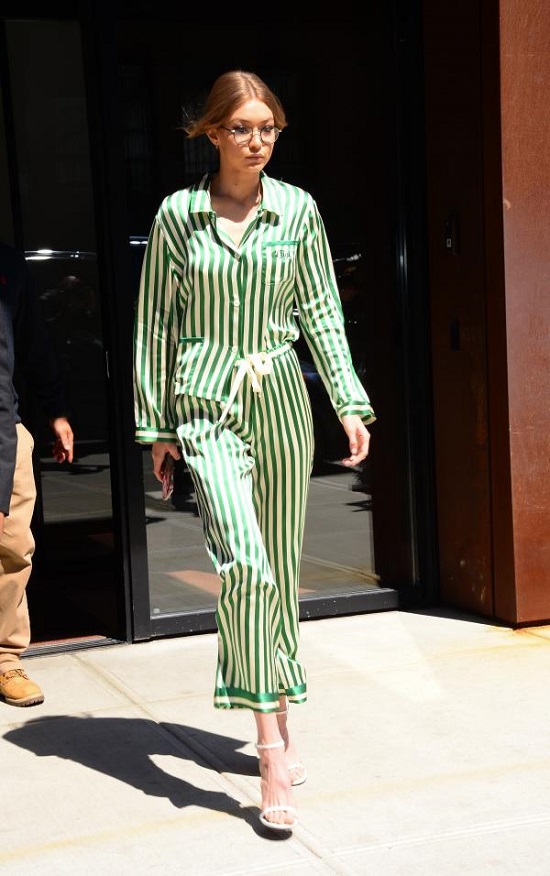 Gigi Hadid in striped pajamas
A suit is an indispensable piece in your wardrobe, but have you thought about wearing it in the same way as Gigi Hadid, by giving up the traditional black jacket and replacing it with green, especially if it comes with a loose design, and coordinating it with a white T-shirt instead of the classic shirt, and complementing her looks with distinctive shoes and a bag.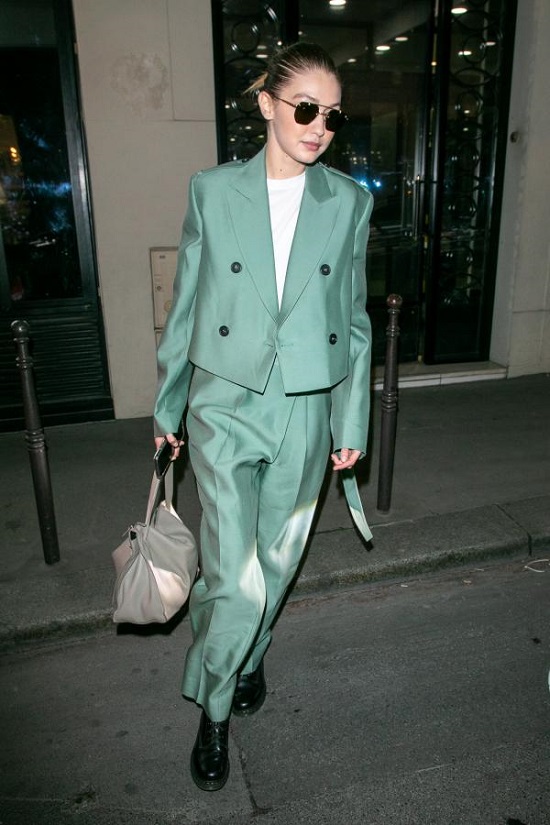 Gigi Hadid in a green suit
Who does not seek comfort by choosing elegant and comfortable pieces, this is what Gigi Hadid did, in a look that is perfectly suitable for the cold seasons. The famous model wore a wide green jacket topped with a sleeveless jacket, loose-fitting jeans, and comfortable black shoes.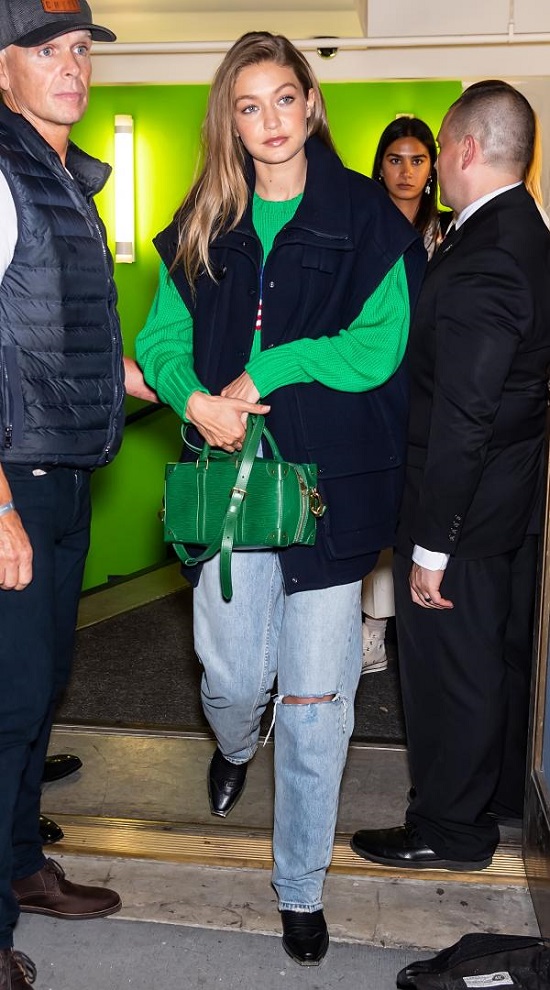 Gigi Hadid in a green jacket
When it comes to maternity, there's no escaping from comfortable, vibrant clothes that Gigi looked for when she wore green bike shorts, a white T-shirt that slipped into her pants, a dazzling crochet bucket hat in vibrant colors, and a crossbody bag.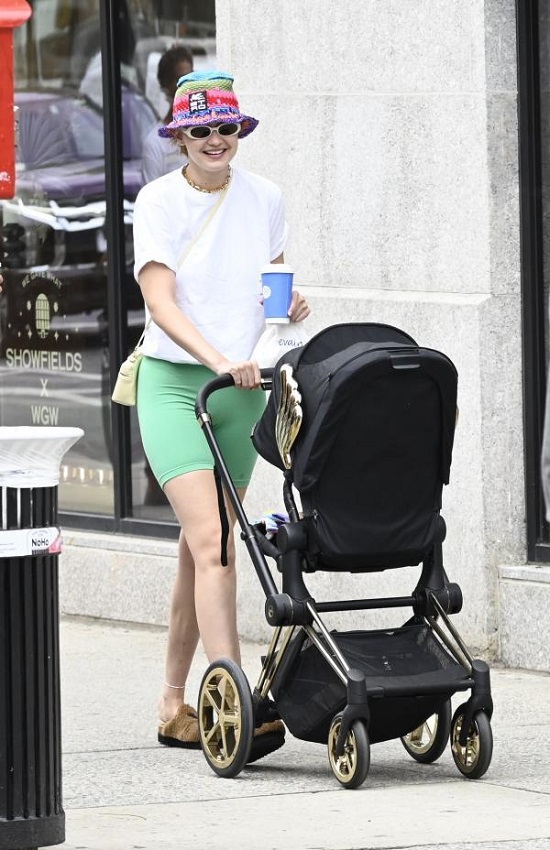 Gigi Hadid wears green bike shorts