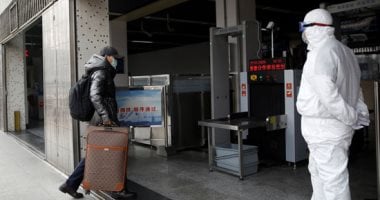 The committee stated – in its daily report – that imported cases from abroad were recorded: 6 cases in Shanghai, 3 cases in Inner Mongolia and Guangdong, two cases in Sichuan, and one case in Fujian and Shaanxi, bringing the total of imported cases from abroad to 4,263 cases of which he left 3990 hospital cases after recovery.

The committee added that 13 people left hospitals yesterday, bringing the total of those recovering to 82,050 people, noting that 13,615 people were in close contact with injured patients who are still under medical observation.

And the committee continued that 8 new cases without symptoms were recorded yesterday, including 4 imported cases, and that the total number of asymptomatic cases that are still under medical observation reached 267 cases, of which 216 were from abroad.

As of the end of yesterday, the Hong Kong Special Administrative Region had recorded 8,778 confirmed cases, including 147 deaths, the Macao Special Administrative Region had recorded 46 confirmed cases, while Taiwan had reported 797 confirmed cases, including 7 deaths, while leaving Hospitals had 7,722 patients in Hong Kong, 46 patients in Macao, and 666 patients in Taiwan, after they recovered.

In a related context, the Chinese Ministry of Culture and Tourism called on Chinese citizens to avoid unnecessary travel outside the country during the next two holidays of the New Year and the traditional Spring Festival.
Liu Keqi, an official with the ministry, said – during a press conference – that the country has recently recorded multiple sporadic and mass outbreaks of COVID-19, calling on people to rationally arrange their trips, reduce unnecessary trips and avoid unnecessary foreign travel, while tourists do not go to risk areas. Medium or high level for COVID-19.
Xi added that travelers should pay close attention to the epidemic situations issued by local authorities, and take preventive measures such as wearing masks, washing hands, and avoiding mass gatherings.