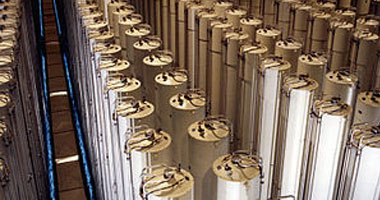 China urged calm and restraint on Tuesday after Iran announced it had resumed enriching uranium to 20 percent purity at an underground nuclear facility in violation of the 2015 nuclear deal with world powers, including China.
The enrichment decision, the latest Iranian violation of the agreement, coincides with the escalation of tension between Tehran and Washington in the final days of the administration of US President Donald Trump.
Tehran began to gradually reduce its commitment to the agreement in 2019, in response to Trump's withdrawal from it in 2018 and his re-imposition of US sanctions under which it had been lifted.
Chinese Foreign Ministry spokeswoman Hua Chunying said that the Iranian nuclear issue has reached a critical crossroads and has become "very complex and sensitive."
"China urges all parties to remain calm and exercise restraint, abide by the obligations of the agreement and refrain from taking measures that could escalate tension to allow diplomatic efforts and change the status quo," she told reporters in Beijing.
"The urgent task now is for all parties to push the United States to return unconditionally to the agreement and to lift all sanctions related to the matter," she added.
She said that this step may help bring the agreement "back on track".
The main objective of the agreement was to extend the time Iran would need to produce enough fissile material for a nuclear bomb, if it wanted to, to at least a year instead of about two or three months. The agreement also lifted international sanctions on Tehran.
Iran insists that it can quickly backtrack on its violations if the United States lifts the sanctions imposed on it. US President-elect Joe Biden, who will take office on Jan.20, said the United States would return to the deal if Iran returned to its full commitment.