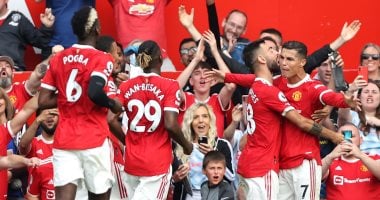 Manchester United will clash with West Ham at 9:15 pm today, Wednesday, in the round of 32 competitions of the English League Cup, at Old Trafford.
The meeting is renewed again between Manchester United and West Ham, after they played a strong match last Sunday, in the fifth round of the English Premier League, and ended with the Red Devils winning 2-1 in a killer time.
Which gives Manchester United's match against West Ham more enthusiasm and rivalry, as the former tries to continue its control and achieve victory in order to qualify for the round of 16, while the Hammers seek to achieve surprise and avenge Sunday's defeat, in the Premier League.
And Cristiano Ronaldo remains the expected star, in every meeting for the Manchester United fans, because of his superior scoring capabilities, which appeared in the 3 matches in which he participated with the Red Devils.
Cristiano Ronaldo scored two goals against Newcastle, during the match that brought them together in the fourth round of the English Premier League, and United won 4-1.
Then the Don scored the equalizer against West Ham United, before Jesse Lingard scored the deadly goal of beating the latter with a score of 2-1, in the fifth round of the English Premier League,
At the European level, Cristiano Ronaldo scored a goal for Manchester United against Young Boys in the first round of the Champions League group stage, before the latter spoiled the Portuguese star's joy, and snatched a fatal victory from the Red Devils, 2-1.
Manchester United is in third place in the English Premier League table, with 13 points, while West Ham is in eighth place with 8 points.