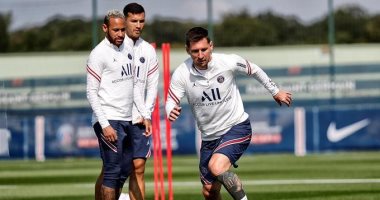 Football fans and fans around the world are waiting for the appearance of the Argentine star Lionel Messi with Paris Saint-Germain, the first with the team in the Champions League competitions in the Saint-Germain shirt.
And the French newspaper, L'Equipe, revealed that Lionel Messi and Neymar will join the squad against Club Brugge, in the match scheduled for tomorrow, Wednesday, at nine in the evening, at Jean Bridal Stadium in Belgium, after they were absent from a match in the French League.
Neymar began his season with Paris against Stade Reims on August 29, the match in which Messi began his career with the team, when he participated as a substitute in the second half.
And the French club Paris Saint-Germain had announced the third shirt that it would wear in the current season 2021-2022, and Paris Saint-Germain published through its official account on the social networking site "Twitter", a video showing Argentine star Lionel Messi during the promotion of the third shirt with the coaching staff this season. .
A number of the most prominent stars accompanied by Messi appeared in the announcement of the third shirt of the Paris Saint-Germain team, including Kylian Mbappe, Neymar da Silva and Kimpembe.