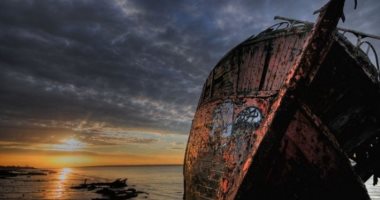 Police forces in the Marshall Islands found an abandoned ship that was thrown by the Pacific waves to the coast of an atoll. The policemen were surprised to find a huge amount of cocaine in the ship.
Police personnel believe that the ship that was found was washed away by ocean waves during its voyage from South America, and the security forces found a quantity of cocaine, described as the largest to be seized, according to the Russian agency "Sputnik", and the value of the cocaine shipment that was found Aboard the ship, it weighs 649 kg and is worth about $ 80 million.
According to the site, a local resident of Aylok Atoll found the 5.5-meter-long boat, trying to move it until he was unable to do so due to the heavy weight of the cargo, and after further investigations, they discovered drug bags hidden in part of the boat.
Richard Hickson, the attorney general in the Marshall Islands, said that the boat may have deviated from its course for more than a year, and it is likely that it came from Central or South America, and the police announced that they had burned the drugs, except for two small bags sent to the Drug Enforcement Administration in the United States for a procedure Checked them both.
In another incident, an abandoned ship appeared from its passengers and there was no person on board off the coast of Ireland, after it had traveled thousands of kilometers, as the length of the ship is 77 meters and was built in 1976, and it was carrying the flag of Tanzania, and British media suggested that it was swept away by What appears to be the storm "Dennis", in a unique phenomenon with a frequency of one in a million, and the media called the ship that covered such a distance as a "ghost ship."
According to the British newspaper "Daily Mail", that this ship had run aground after the US Coast Guard forces rescued its crew of 10 sailors, 1,300 miles southeast of Bermuda in October 2018, and reported that the ship's passengers had been stranded. Find a way to survive its time for 20 days.
The "Daily Mail" said that the ship was at the time on a business trip from Haiti to Greece, before it got stuck in the middle of the ocean due to a malfunction that afflicted it. The leader of the rescue operation at the time, Travis Imge, said: "We traveled more than 1,300 nautical miles to help the crew of the ship before it reached it. Cyclone".