Walid Rekraki, coach of the Moroccan sports club Wydad, hinted, The possibility of the player Walid El Karti leaving this summer, to confirm the reports indicated by "The Seventh Day" that the player is close to joining the ranks of Pyramids during the transfer season.
According to the Moroccan "Boula" website, Regraki said after Wydad defeated Ittihad Tangier by double today, Sunday, at the opening of the new season of the Moroccan League:Karti has the green light to leave, and we are waiting for the offer that will benefit the player and the club."
The Moroccan website indicated that the name of Al-Karti was linked during the recent period, with the transfer to the Egyptian League, through Zamalek and Pyramids. Which is the closest destination to the player?.
Walid El Karti joined the Wydad sports team, in the summer of 2013, from Olympique Khouribga.
And "The Seventh Day" had confirmed the approach of the Pyramids Club to the inclusion of Al-Karti, as Club officials are putting the last frills in a deal to include Walid El Karti, the attacking midfielder in Moroccan Wydad, before the official announcement of the completion of the deal during the current summer transfer period.
Pyramids agreed to include Walid El Karti in the current summer Mercato, after the player left his Moroccan team, and some last frills remain in completing the deal between El Karti and Pyramids before its official announcement.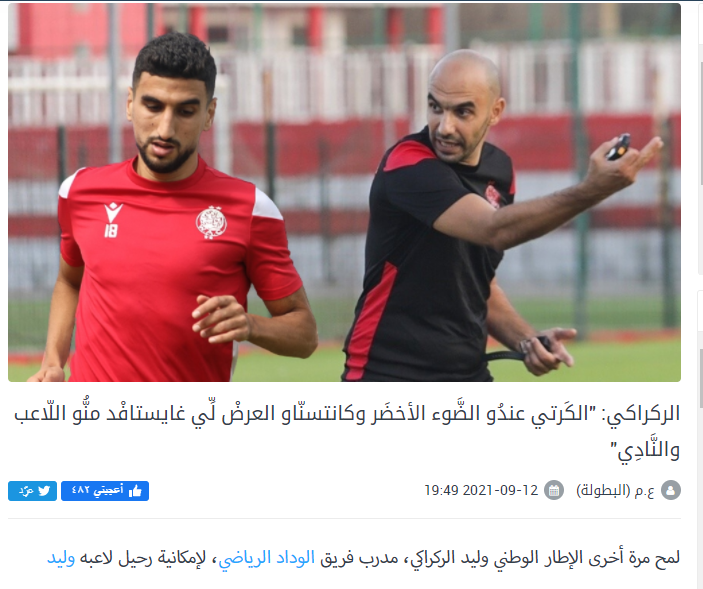 Tournament website