Leading UK conservatives have criticized Boris Johnson's handling of the Brexit negotiations and his threat to deploy Royal Navy gunboats to patrol UK fishing waters if no agreement is reached.
According to the Guardian, the Ministry of Defense confirmed that four 80-meter-long armed vessels had been put on standby to protect British waters from European Union fishing vessels as of January 1, in the absence of an agreement on fishing rights.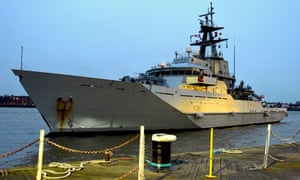 Tobias Ellwood, Chairman of the Conservative Party on the Defense Committee in the House of Commons, described the threat to deploy gunboats as "irresponsible", when attention should be focused on striking a deal, while former European Union Commissioner Chris Patten accused the prime minister of acting like an "English nationalist".
Johnson said Friday that fishing rights were one of the main obstacles to any deal, the other being how to maintain fair competition once the UK can set its own standards and regulations from the end of the transition period in three weeks. .
The naval vessels' readiness will likely be interpreted as a warning to Brussels about the consequences of not agreeing to a trade deal – an outcome that both sides have said is now the likely outcome.
"I think these headlines are totally irresponsible. We need to focus on what is really out there – 98 percent of the deal is in, there are three or four issues pending," Ellwood, the former defense secretary, told BBC Radio 4's Today program. : "Although it is important, let's stop those for the future. Let's get this deal because from an economic point of view, but more importantly, international reputation, this would be very damaging to Britain – it would be a reactionary move, a failure of statecraft."
In his speech, Patten accused Johnson of being on a "runaway train of English excellence". The former Conservative leader added: "I hope I'm wrong to feel so depressed about expectations but I don't think Mister Johnson is Conservative, I think he is an English nationalist, and he said," It seems like all the things the Conservatives used to believe – like defending the union, like not Attacking our institutions, like the judges, is like a belief in international cooperation – it's thrown out of the window. "