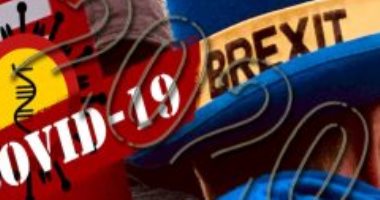 The leaders and citizens of the European Union and the world are unanimous in describing the year 2020 as "exceptional and difficult", with all of them realizing that its effects will extend for years to come, and despite the fact that fighting the Corona epidemic has topped the headlines and the work priorities of politicians and health experts in the European Union countries and the rest of the world, The current year witnessed many important events.
A report published by the Spanish newspaper "El Diario" indicated that the outbreak of the Corona epidemic, last February, sparked a state of terror in the countries of the Union that took strict measures and closures that reduced citizens' freedoms and rights and affected their daily lives and financial conditions..
Chaos, contradiction and lack of coordination were also the features of the EU's institutions and countries 'dealing with the epidemic, during its two successive waves, before the recent arrival of the vaccine, on which many attach great hopes to avoid a third wave..
On January 31, at midnight, the United Kingdom's withdrawal from the European Union was officially recorded as a precedent, the first of its kind in the history of the united bloc, in implementation of the results of a referendum that took place four years ago..
After this date, a difficult, complex and full of surprises process of negotiations began between Brussels and London, ending on December 24th, with the announcement of an agreement described by many as "announcing the last chance to save face."
The Europeans know that their relations will not improve with the British neighbor in the future, and hence the endeavor to develop a multi-spectrum political dialogue in foreign policy, climate change and fighting epidemics. "These issues must be discussed periodically as we do with all partners and allies," according to Union President Charles Michel.
In addition to the Covid-19 and Brexit files, the file of terrorism and extremism has reappeared clearly in the countries of the Union after the killing of a French teacher by a terrorist months ago..
Globally, the year 2020 has not been less difficult, as the year began with huge fires in Australia, followed by fires and natural disasters around the world..
The year also witnessed important events such as the American elections, the bombing of the Beirut port, the protests in Belarus, the tensions between the United States and Iran and the normalization processes between several Arab countries and Israel, all of which are files that will cast a shadow over the coming year, which everyone hopes is less severe..