By Dominic Casciani
Home affairs correspondent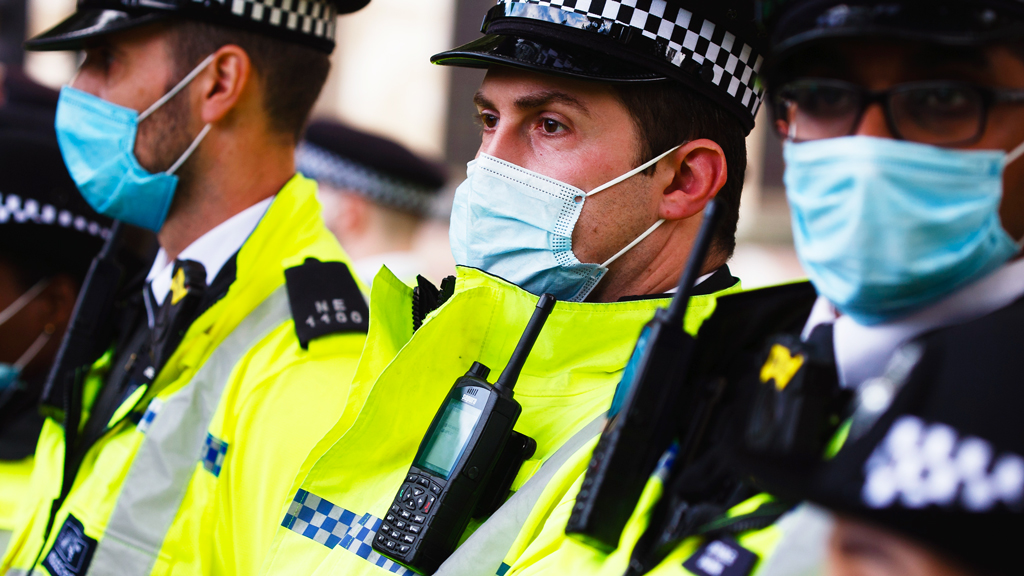 The police's role in the coronavirus pandemic is simple: to ensure we follow the new restrictions on our lives.
But in practice, that is a huge challenge for police who are being asked to monitor behaviour that, until March, was perfectly legal.
How do police enforce Covid rules?
Enforcing the restrictions puts huge pressure on police resources. Crime has returned to levels last seen before the March lockdown – which means the frontline is stretched once more.
Chief constables in England and Wales have received an extra £30m to pay for overtime costs.
But their rule remains to limit demands on officers through a model they call "The Four Es".
Before fines are issued to rule-breakers, police will first take a number of steps:
Engage with people to ask why they appear to be breaking the rules
Explain the law, stressing the risks to public health and the NHS
Encourage them to change their behaviour
Enforce by issuing penalty notices, only as a last resort
Can you be fined for breaking Covid rules?
There are now three "tiers" of coronavirus restrictions in England. Police have a legal duty to make sure they are enforced, alongside local council environmental health and trading standards officers.
If you break the restrictions in your tier, you could get a fixed penalty notice (FPN), the Covid equivalent of a parking ticket. Since March, around 19,000 have been handed out.
These now start at £200, rising to £6,400.
The most obvious way you will get a FPN is for breaching the "Rule of Six", by being in a larger gathering without good reason.
Large parties can be shut down by the police – with fines of up to £10,000.
In a high-risk Tier Two or Tier Three area, you could be ticketed for being in a gathering of more than two people indoors, or for travelling to a larger gathering outside your area.
And if you are in one group of six while out – let's say at a restaurant – you can't get up and join a different group. In today's strange world, that would amount to the crime of "mingling".
What about the rest of the UK?
The rules differ across the UK – but all forces follow the general principle of the Four Es.
Police will be expected to continue enforcing new rules as they are introduced:
Can police make me cover my face?
Yes they can, and, again, you could face a fixed penalty notice.
In all parts of the UK you must now wear one in shops. You must also wear them when out in a pub, cafe or restaurant when not sitting at your table.
Staff and security guards have no formal powers to enforce the wearing of masks. However, they can stop you from entering or demand that you leave their property.
You must wear a face covering on public transport in all parts of the UK, although some people are exempt.
Could I end up in court?
The police could charge someone with a criminal breach of the Covid regulations.
This been reserved for a tiny minority of cases where police believe people are deliberately ignoring the rules after repeated incidents.
In extreme circumstances the police can arrest someone if they believe it is a necessary step to "maintain public health".
Can police check whether I'm isolating?
If you have returned from an overseas Covid hotspot, or have been told by the NHS Test and Trace system to stay at home, you must quarantine for 14 days.
The police can now check the NHS Test and Trace database to investigate a tip-off about a quarantine-breaker, or to follow up a concern raised by a local authority.
Under the agreement with government, they can find out the name and contact details for anyone who has been asked to isolate and the date when that order was given.
Police will also be able to see other information which may be relevant to why someone is not following the rules, such as whether they are vulnerable, or supported by carers.
Police won't get to see your personal health records.