Counselor Turki Al-Sheikh, head of the Saudi Entertainment Authority, published a copy of the first issue of the Riyadh Entertainment Season magazine,PDFVia his official Twitter account.
This magazine will be published every two weeks on the Riyadh Season, and its first issue is today, Tuesday, November 9.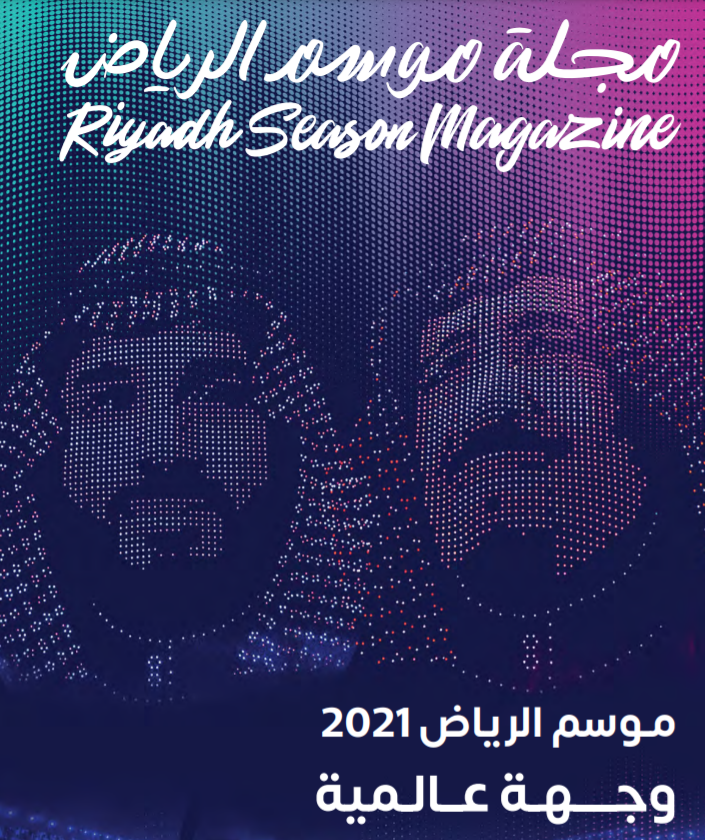 Riyadh Season Magazine
On the other hand, Counselor Turki Al-Sheikh, head of the Saudi Entertainment Authority, promoted Umm Kulthum's party through the "hologram" technology within the Boulevard activities in the Riyadh season, through his personal account on "Facebook", and published a picture of Umm Kulthum's party poster, and a writer commented on it: "For the first Once in the Arab world, a theatrical performance about the journey of Sitt Umm Kulthum in Riyadh City Boulevard.
During the past few days, the Entertainment Authority presented the Nightingale Ceremony Abdel Halim Hafez, who also preserved the method of the helogram technology, and a large number of Arab communities attended..
On October 20, the General Authority for Entertainment in the Kingdom of Saudi Arabia launched the Riyadh Season 2021, with an opening ceremony attended by more than 750,000 people in the Riyadh City Boulevard, and millions followed it via live broadcasts on a number of TV channels, websites and electronic accounts.
The 2021 Riyadh season includes many events that are suitable for all segments of society..
The events of the 2021 Riyadh season also include recreation and relaxation tools, such as "Winterland", "Riyadh Front", "Combat Field", "Al Murabba'", "Al-Athria", "Riyadh Safari", "Oasis Riyadh", and "Riyadh Oasis". "Riyadh Pulse", "The Groves", "Zaman Village", "Khaloha" and "The Peace Tree".