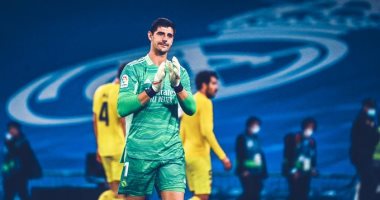 Real Madrid goalkeeper Thibaut Courtois achieved a remarkable number after he managed to keep a clean sheet during the match between the royal team and its guest Villarreal, which brought the two teams together on Saturday at the "Santiago Bernabeu" stadium, the stronghold of the Royal Club, as part of the seventh round of the Spanish league competition "Liga". ".
According to the Opta network for numbers and statistics, Thibaut Courtois has become one of only five goalkeepers who have kept a clean sheet in 100 or more La Liga matches in the twenty-first century in 217 matches.
The network indicated that only Atletico Madrid goalkeeper Jan Oblak reached this number in terms of 100 clean sheets in fewer meetings than Thibaut Courtois (100 clean sheets in 180 matches).
With this result, Real Madrid maintains the top of the Spanish League with 17 points, 3 points behind runner-up Seville with 14 points, while Villarreal comes in tenth place with 8 points.
Real Madrid opened the season with a 4-1 victory over Alaves, then tied with Levante 3-3, then achieved a difficult victory over Real Betis with a clean goal, then swept Celta Vigo 5-2, before they managed to overcome the obstacle of Valencia with a score of 2 1, and beat Mallorca 6-1 before a draw today.
The two teams have faced each other in 43 matches. Real Madrid managed to win 24 matches, while Villarreal won four matches, and a tie between them over 15 matches.