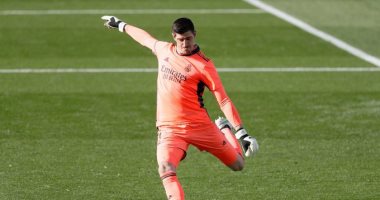 Real Madrid goalkeeper Thibaut Courtois confirmed that his team's goal is always to win everything, before the match against Inter Milan, scheduled to be held at nine in the evening, Wednesday, at the "Giuseppe Meazza" stadium, in the first round of Group D of the Champions League.
Courtois told the Spanish newspaper, ABC: "Our goal is to go out and compete for everything, and we have no plans for a championship. This tournament is special for us, and we always want to win it."
The Real Madrid goalkeeper confirmed: "I will not talk about obsession for me, but of course I want to achieve this title. I was lucky to win titles in every country I played in, but I strive to achieve the Champions League."
The international goalkeeper spoke about his coach Carlo Ancelotti: "He is a calm person with very clear ideas, knows how to convey them and the player feels safe and reassured with him. His knowledge of the club and some of the players in the team made everything much easier, and he did not need a period of adaptation, in addition to that Technically he knows how to be pragmatic in his decisions."
Thibaut Courtois stressed: "Every coach has his ideas and tries to implement them on the field, and I think that Carlo came to add and get the best results from every player, and Carlo is very smart and knows how to win using what he succeeded in the past years."
Real Madrid is competing in Group D in the Champions League this season, with Inter Milan, Shakhtar Donetsk and Sheriff Tiraspol.
The Real Madrid team appears in a new dress with Italian coach Carlo Ancelotti, as he imposed his control from the beginning on the Spanish League competition, after achieving 3 victories and one draw, to top the table with 10 points.
Missing Real Madrid against Inter Milan, at the top of the Champions League, the trio Marcelo, Gareth Bale and Toni Kroos.