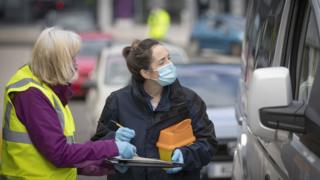 There have been more than 400,000 confirmed cases of coronavirus so far in the UK and more than 40,000 people have died, government figures show.
However, these figures include only people who have died within 28 days of testing positive for coronavirus and other measures suggest the number of deaths is higher.
Find out how the pandemic has affected your area and how it compares with the national average. Last updated 25 September.
If you can't see the look-up click here.
The postcode search has been updated to replace data for health boards in Scotland with data for local councils. In England, data for county councils has been replaced with data for district councils. Figures for boroughs and unitary authorities remain unchanged.
Cases and hospital admissions now rising
After falling from their April peak, confirmed new coronavirus cases in the UK have been rising again since July.
On Sunday, the country recorded 5,693 new cases.
The official number of cases during the peak underestimated the true level of infection at the time, as widespread testing was not available until mid-May. Before then, testing was targeted – mainly being used in hospitals and other care settings.
Yvonne Doyle, medical director at Public Health England, has warned that rising number of new cases was a "stark warning for us all".
"The signals are clear. Positivity rates are rising across all age groups and we're continuing to see spikes in rates of admission to hospital and critical care."
People needed to follow measures bought in to control the virus, she said, as well as download the new NHS contact-tracing app.
The rising number of confirmed cases has prompted tighter restrictions on social activity to be brought in across the UK, including a 22:00 BST closing time for pubs in England and Scotland. In Wales, pubs must stop serving alcohol at 22:00 BST and close by 22:20 BST.
People in England have also been told to work from home if they can and in Scotland people will no longer be allowed to visit friends or family at home.
The government's chief scientific adviser Sir Patrick Vallance has warned the UK could see 50,000 new coronavirus cases a day by mid-October without further action.
This could then lead to about "200-plus deaths per day" a month after that, he said.
The BBC's health correspondent Nick Triggle says what matters now is how the rise in cases translates into hospitalisations and deaths, both of which are increasing.
An estimate from the Office for National Statistics (ONS), released on Friday, suggested that roughly one in 500 people in England had coronavirus in the week ending 19 September. This is up from one in 900 reported the previous week.
Based on tests in households for current infection, the ONS survey is thought to give one of the most accurate pictures of whether or not new cases are increasing.
Where are the current hotspots?
There are several local hotspots in the UK that have seen spikes in cases in recent weeks.
The orange areas on the map below are those currently seeing the highest number of cases per 100,000 people.
Sorry, your browser cannot display this map
Extra restrictions have been introduced in many areas of the UK – including across the whole of Scotland and Northern Ireland.
In addition to these national measures, parts of Wales, areas in the Midlands, Lancashire, Merseyside and West Yorkshire have seen additional rules imposed.
You can see a full breakdown of the areas under extra restrictions and the types of rules in place here.
Daily deaths starting to rise
While the number of new cases has been rising again recently, daily deaths have remained low – although there are now signs of a small increase.
The government announced 17 new deaths on Sunday. There were 16 deaths in England and one in Scotland. No new deaths were reported in Wales or Northern Ireland.
In August, the government's death toll in England was reduced by 5,340 following a review of the way coronavirus deaths are counted.
New rules mean deaths anywhere in the UK are included in the coronavirus total only if they occurred within 28 days of a positive test. Previously in England, all deaths after a positive test were included.
England has seen the majority of UK deaths from Covid-19. Using the 28-day cut-off, there have been just over 37,000.
Overall death toll could be more than 60,000
When looking at the overall death toll from coronavirus, official figures count deaths in three different ways.
Government figures count people who tested positive for coronavirus and died within 28 days.
But there are two other measures.
The first includes all deaths where coronavirus was mentioned on the death certificate, even if the person had not been tested for the virus. The most recent figures suggest there had been nearly 57,000 deaths by 11 September.
The third method looks at all UK deaths over and above the number usually expected for the time of year – known as excess deaths. This measure shows the death toll was above 64,000 by 11 September.
There were just under 11,145 deaths registered in the UK in the week ending 11 September, higher than the five-year average. But it is thought this was caused by a delay in reporting some deaths over the August Bank Holiday.
These figures from the ONS also show that, for the second time since March, there were fewer than 100 deaths in a week in the UK mentioning Covid-19 on the death certificate.
What is the R number in the UK?
The "R number" is the average number of people an infected person will pass the disease on to.
If R is below one, then the number of people contracting the disease will fall; if it is above one, the number will grow.
On Friday, the government raised its estimate for the R number across the whole of the UK to between 1.2 and 1.5.
The estimate for England is 1.2-1.5, while for Scotland it is 1.2-1.6. The estimate for Wales is 0.7-1.2 and in Northern Ireland it is 1.5.
The government has said in the past that the R number is one of the most important factors in making policy decisions.