By Eleanor Lawrie
BBC News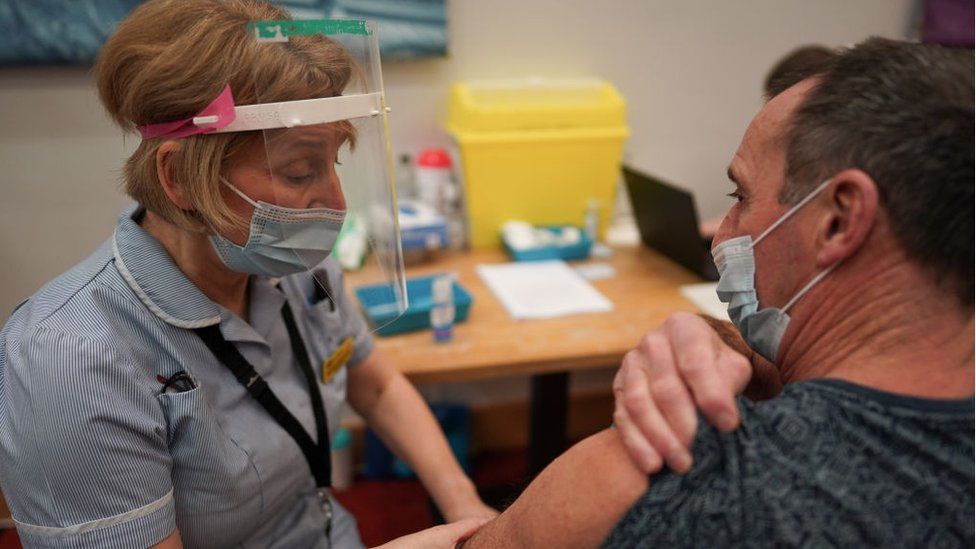 More than five million adults in the UK have had at least one dose of the coronavirus vaccine.
What are the rules for people who have been vaccinated?
Can I spread coronavirus if I've had the vaccine?
Several weeks after the second vaccine, people appear far less likely to become seriously ill with coronavirus.
What's less understood is whether being vaccinated stops someone from catching the virus and passing it to others, although the government
Do I have to follow lockdown restrictions?
People who have been vaccinated still have to follow lockdown restrictions.
Health Secretary Matt Hancock said it was "important that everybody post-vaccination continues to follow those rules", to bring the number of cases down and to protect themselves.
However, it is hoped widespread vaccination could ultimately allow some or all of the population to move closer to normality.
Prime Minister Boris Johnson has said the vaccine rollout will help people "reclaim our lives and all the things about our lives that we love".
Will the UK introduce a vaccine passport?
At the moment, people who have been vaccinated receive a record card, and the immunisation goes on their medical record.
A "vaccine passport" could expand on this by allowing people to prove their status and even allowing them to do certain things.
Several countries and firms are already working on apps or digital certificates.
Vaccine Minister Nadhim Zahawi has previously said the UK government is "looking at the technology" to create vaccine passports.
But the next day Cabinet Office Minister Michael Gove said a vaccine passport was "not the plan," although businesses would be able to "make decisions about who they will admit and why".
They say the data could help areas at different stages of vaccine roll-out make decisions on how to allow a return to work, school and "the kind of life that people want to lead".
Could employers and businesses demand vaccination proof?
However, demanding staff are vaccinated would be unlawful in the "majority of circumstances", says Ella Bond, an employment lawyer at Harper James solicitors.
She said it could lead to unfair dismissal and discrimination claims. Exceptions could be if it was "job critical" for people to be vaccinated – for example care home workers, or roles requiring overseas travel.
Another question is whether companies could refuse to serve unvaccinated customers.
Saga, which specialises in holidays for the over-50s, says passengers on its 2021 holidays or cruises must be fully vaccinated.
Australian airline Qantas says travellers will eventually need to prove coronavirus vaccination to board its flights.
What have other countries done?
Estonia and the UN's health agency is creating e-vaccination certificates known as a "smart yellow card"
Denmark is developing a digital vaccine passport so citizens can prove they have had the jab
Spain is compiling a database of vaccine refusers, which it will share with the European Union. This will ensure no-one has been accidentally missed off the vaccination list, the health minister said
Greece is calling for a vaccination certificate that will work across all member states to help travel
Microsoft, the Mayo Clinic and others are developing a way to store encrypted vaccination records in a phone's "digital wallet". A scannable QR code will help people "safely return to travel, work, school and life", they say.
Are vaccine passports the right thing to do?
Many countries already ask travellers for proof of vaccination against diseases such as yellow fever.
But some academics and human rights groups fear vaccine passports could lead to discrimination against those who are waiting for the vaccine, can't have it, or do not want it.
However, a team from the Oxford Uehiro Centre for Practical Ethics suggest it's "unethical" to keep people isolated who have no or little risk of spreading coronavirus
Relaxing restrictions for low-risk individuals benefits society as a whole, they argue, whether that's caring for Covid patients, visiting the isolated, or re-opening a small business.
It may also encourage people to have the jab.
"There are people who are keen to be vaccinated and there are other people who are less sure and additional freedoms could be an incentive," lead author Dr Rebecca Brown told the BBC.