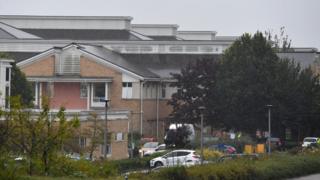 Eight patients have died with coronavirus at a hospital where 60 cases have been linked to an outbreak on the site.
Planned surgeries have been temporarily stopped at Royal Glamorgan Hospital in Llantrisant, Rhondda Cynon Taf, as part of a plan to manage the outbreak.
Patients who would usually be taken to A&E in an emergency will also be sent elsewhere.
The temporary measures came into force at 14:00 BST on Wednesday.
Cwm Taf Morgannwg health board said there were 82 Covid-19 cases at the hospital and 60 of those were from infections caught at the hospital.
The eight deaths are all directly linked to infections from within the hospital.
Six Covid patients – unrelated to the hospital outbreak – are in intensive care at the hospital, although that figure has fallen by one since last week.
Only a small number of urgent cancer surgeries will remain at the Royal Glamorgan, while its A&E department will stay open for walk-in patients, but the Tirion birthing centre will be closed until 5 October.
Emergencies will be taken to Princess of Wales Hospital in Bridgend, Prince Charles Hospital in Merthyr Tydfil or the University Hospital of Wales in Cardiff.
The latest move follows two wards being closed last week.
'Safety is key'
Keira Tustin said she was "disappointed" but understood the reasons for the cancellation of her four-year-old son Brogan's dental operation, which was due to take place on Monday.
"I work for the NHS myself and I know how much the NHS are struggling right now," Ms Tustin said.
"I am disappointed that my son can't have his operation, but safety is always key and if that means waiting a little while will put myself, my son and other people involved in all of this out of risk, I'm happy to do so.
"My son's surgery is only minor and my heart goes out to the people awaiting surgery for major things."
Dr Ruth Alcolado, deputy medical director, told BBC Wales: "This is a very difficult situation and we extend our sympathies to all those families who have been affected – whether they have sadly died or if they are suffering from Covid."
She said she was sure there were lessons which could be learnt, but it demonstrated the virus was two or three times more infectious than flu.
The original outbreak last week had been confined to two wards but over the weekend, patients started showing symptoms in three more wards, prompting the extra measures.
Although the situation will be reviewed daily, the incubation period of the virus means it will be at least a week before any lifting of measures.
"We are anticipating at moment that the restrictions will be in place at the Royal Glamorgan for two weeks before any review," Dr Alcolado added.
Chief executive Paul Mears told health board members: "We recognise the concern that these temporary changes will cause and would like to assure our patients and communities that managing this outbreak is our key priority," the Local Democracy Reporting Service said.
The cases at the Royal Glamorgan reflect an overall rise in coronavirus patient numbers across Wales.
Andrew Goodall, chief executive of NHS Wales, told the Senedd health committee on Tuesday the number had gone up by 60% in just seven days to 550.
He said: "We've seen a 90% increase in the number of Covid-related patients in critical care. That's gone up from 16 to 34."
Expansion plans for critical care are now being used in some areas.
What is the situation elsewhere in Wales?
Aneurin Bevan health board, which covers Blaenau Gwent, Newport, Caerphilly, Monmouthshire and Torfaen, said its hospitals were "very busy" and had seen an increase in patients with Covid-19. Intensive care units were also busy, but with "small numbers" of Covid patients.
Betsi Cadwaladr health board, which covers the newly announced lockdown areas of Conwy, Denbighshire, Flintshire and Wrexham, said cases "remain low in our hospitals". On Friday, the health board said its hospitals were caring for 21 patients with confirmed Covid-19 infections, nine of which had been receiving care for more than 15 days.
Cardiff and Vale health board said the number of Covid-19 patients being admitted to hospitals "is increasing but at a low rate". There are 20 patients in its hospitals with coronavirus, three of whom are in intensive care. "We continue to maintain essential services, including planned surgery and outpatient diagnostics," a spokesman added.
Swansea Bay health board, which also covers Neath Port Talbot, said the single death reported by Public Health Wales on Wednesday happened in its area.
What is the political response to the outbreak?
Speaking at the Welsh Government's coronavirus press briefing, Education Minister Kirsty Williams said: "We understand that this is a serious situation and how upsetting it is for all involved.
"We are working with the local health board, health authorities, the senior management team and Public Health Wales to understand and, crucially, address the issues that have arisen at the Royal Glamorgan Hospital to bring that outbreak under control and learn the lessons of that, so that those lessons can be applied in other health care settings."
Coronavirus infections in hospital
Numbers of probable and definite hospital onset infections by week
Meanwhile, latest weekly figures from Public Health Wales show there have been 39 cases of Covid-19 linked to infections caught inside hospitals in the Cwm Taf Morgannwg area.
The recent spike attributed to the Royal Glamorgan has continued and the health board is responsible for all but five of the infections inside hospitals across Wales in the week up to Tuesday.
Back in July it was revealed hundreds of patients in Wales caught coronavirus while in hospital earlier in the pandemic, while there was also a spike in infections in the summer at Wrexham Maelor hospital.
The hospital which serves some of the communities worst affected by the recent resurgence in Covid-19 cases is itself going into a form of lockdown.
Last week the health board said it had closed two wards within the Royal Glamorgan Hospital in an effort to contain a cluster of 34 cases.
But that proved not to be enough, and bosses have decided much more drastic measures are needed.
In a way what's happened in the Royal Glamorgan, is a local version of the decision taken across Wales in March to suspend pretty much all non-urgent NHS treatments.
Then it was about clearing the decks in anticipation of the first wave. Now, this local decision is to minimise the number of patients potentially at risk of exposed in a hospital which has become hotspot.
But how successful local hospital lockdowns like this might be could determine how likely we are to see more general restrictions in the NHS in the coming months.
Either way this is a very worrying time for patients.
Pontypridd MP Alex Davies-Jones and Member of Senedd Mick Antoniw issued a joint statement saying they were "extremely concerned" by the outbreak at the hospital.
"Sadly, this outbreak is a reflection of the increase in Covid-19 infections in Rhondda Cynon Taf generally and we understand that local people will be very concerned about this development," they said.
"We are seeking an urgent meeting with the health board to discuss its plan to stabilise the situation and to ensure that the impact on those who were scheduled to have surgery and other treatments is minimised."
Plaid Cymru Rhondda MS, Leanne Wood said: "This is deeply concerning news, as is the rise in infection figures for the Royal Glamorgan.
"I know many people who have been waiting for medical procedures who have already had them cancelled – and so this news is going to provide for great anxiety for many people."
She said the loss of A&E would be a cause of concern as people would have to travel further, adding: "We need to get the situation at our hospital under control and all the stops need to be pulled out to get there."
Conservative health spokesman Andrew RT Davies said the spike was "very concerning" and questions over processes and protocols must be asked. "However, on the face of it, the situation at the Royal Glamorgan seems like the spike in infections at Wrexham Maelor Hospital in July.
"At the time, the health minister admitted that the situation could have been managed better. We had hoped that lessons would have been learnt, but it appears they were not."
Mr Davies urged the Welsh Government to use field hospitals to help alleviate the pressure on the hospital, and to protect patients and staff.