By Reality Check team
BBC News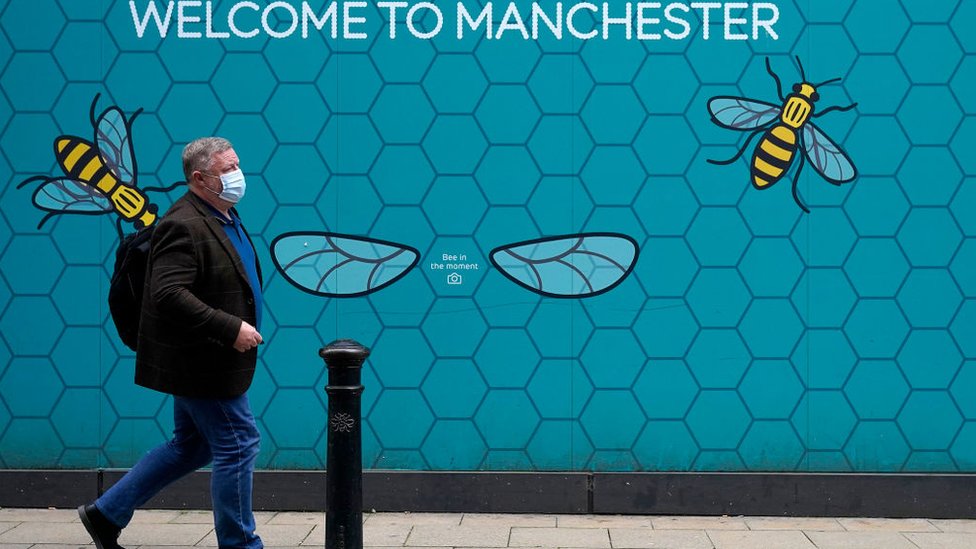 Greater Manchester is going into the highest tier of coronavirus restrictions, despite failing to reach an agreement with the government over the amount of money it should receive to help businesses affected by the new rules.
South Yorkshire is also entering tier three but has reached a deal.
So, how are these support packages being decided and who is getting what?
The money
Tier 3 or "very high alert" areas are being offered two pots of money by government: one to help with local enforcement of Covid rules and test-and-trace schemes, and the other to support businesses as they deal with the additional restrictions.
Liverpool City Region is receiving £14m for the first pot and £30m to support business
Lancashire is receiving £12m and £30m
South Yorkshire is receiving £11m and £30m
Greater Manchester is receiving £22m and £60m is being made available (it did not agree to the £60m and had asked for more money)
There are, obviously, different numbers of people living in these areas so when you adjust these figures for population size the amount per person looks roughly the same, although there are some small differences.
Liverpool City Region will get £28 per person
Lancashire will get £28 per person
South Yorkshire will get £29 per person
Greater Manchester would receive £29 per person
How is the money decided?
Communities Secretary Robert Jenrick has said that the money allocated is "approximately":
£8 per person for enforcement and test and trace
£20 per person for business support
This allocation might explain why the government rejected Greater Manchester's original request for £90m business funding, as this would have worked out at £32 per head for that portion of the funding.
The £65m which the Mayor of Greater Manchester, Andy Burnham, had hoped for on Tuesday (which was also rejected) would have put it at £23 per person for that portion.
There are some differences between areas that might not be accounted for in a per-capita formula.
In asking for more money, Greater Manchester argued that it had a bigger population and economy than Liverpool and Lancashire.
It also said its locally run transport system was normally a revenue maker for the city, but would now be less busy and bring in less money. The city also has a major regional airport that will need additional support.
The city-region also argued that it had faced restrictions for longer than most of the country, which meant the costs incurred had already been high.
While most of Greater Manchester has had some restrictions since the end of July, Liverpool has only faced restrictions since 22 September.
We have contacted the Department for Housing, Communities and Local Government for more details about its funding formula.
What is the business support money for?
Local authorities have not been clear about exactly what they plan to spend the business support money on.
One of the things he said he wanted to spend this on was topping up the wages of employees of businesses that were forced to close, who would be getting less than 80% of their usual income.
Until now, the furlough scheme has been paying 80% of the wages of affected workers (up to a maximum of £2,500 a month) but it finishes at the end of October. It's being replaced by the Job Support Scheme which will pay 67% of their wages.
Some of the lowest-earning workers will have that topped up by Universal Credit, but some will not.
Andy Burnham also said he wanted to make sure self-employed people received 80% of their income.
Why is this an issue now?
Local lockdowns have been going on since July, but funding disputes have never been this high-profile.
Part of this is likely to do with the sheer number of people affected: from Saturday, 7.3m people will be under tier 3 restrictions.
Before the tiered system, just two areas – Bolton and Leicester – were asked to close parts of their hospitality sector.
And during that period, the more generous furlough scheme – which saw employees receive 80% of their wages – was still in place.
What are Scotland, Wales and Northern Ireland doing?
Restaurants and pubs in much of Scotland are currently closed.
This includes funding of up to £3,000 for small businesses (depending on size) and to help companies struggling to cover furlough payments.
In Wales, a new fund of up to £60m has been announced to help businesses affected by local lockdowns and the forthcoming three-week circuit-breaker lockdown.
As part of the fund, every small business that qualifies will receive a £1,000 payment. Small and medium-sized retail, leisure and hospitality firms that have to close will get a one-off payment of up to £5,000.
Eligible businesses include pubs, hotels and cinemas.
Reporting by Benjamin Butcher, Oliver Barnes and Anthony Reuben