By Philippa Roxby
Health reporter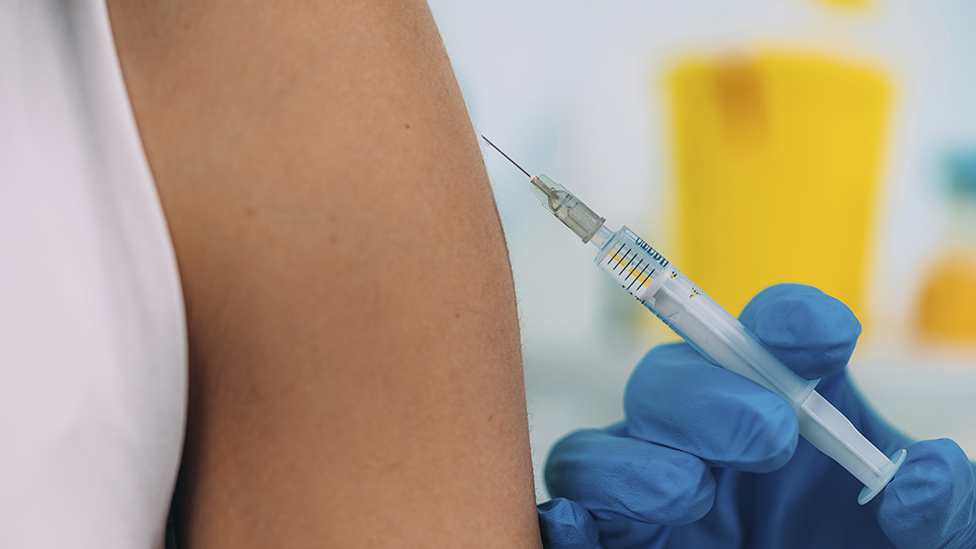 Four Covid vaccines have shown very promising results in final-stage trials, so the first vaccinations could take place before the end of 2020.
When will coronavirus vaccinations start?
The UK government is confident that some of the most
at-risk groups will be vaccinated before Christmas, and most over-50s before the spring.
More people may be offered a vaccine during 2021, if one is approved by UK regulator, the MHRA.
It will only authorise a vaccine if one meets strict safety, quality and effectiveness standards.
That process will probably take a few weeks. Usually it takes months, but these vaccines are being prioritised.
When will I get a vaccine?
That will mainly depend on your age – with people in care homes and the over-80s at the front of the queue, potentially in December.
That's because the older you are, the higher your risk of becoming seriously ill or dying from the virus – and that risk rises sharply beyond 70.
The Joint Committee on Vaccination and Immunisation (JCVI) has decided that care home workers and health and social care staff are also a priority, because they could transmit the virus to vulnerable patients.
After these groups, the plan is to offer the vaccine to everyone else based on their age – from the oldest to the youngest by next spring.
Whether people with underlying health conditions and those from ethnic minority backgrounds are also prioritised in some way, has not been decided.
Where will I get a vaccine?
You'll be invited to get a vaccine as soon as it's your turn, probably by letter.
This could be through your GP surgery, a hospital or care home if you work there, or through vaccination hubs which are being set up around the country.
The NHS is ready to start giving vaccines as soon as the first one is approved and delivered to the UK.
It is recruiting 30,000 volunteers to help, some of who will be trained to give the jabs.
Plans have been in place for months, but they can only be finalised once the regulators authorise the vaccines.
If the Pfizer vaccine is rolled out first, the challenge of storing doses at very cold temperatures will need to be planned for – but this isn't an issue with the Oxford one, which can be stored at normal fridge temperature.
Can I pay to be vaccinated sooner?
No – this vaccine is being rolled out free to people via the NHS.
You can't jump the queue by paying for it, but there should be plenty of vaccines to go round.
Should I leave a gap between getting the flu and Covid vaccines?
Having both infections at once this winter could be dangerous.
At its last meeting, the JCVI recommended leaving at least seven days between the vaccines.
Will the Covid vaccine be safe?
The UK regulator will not authorise any vaccine unless it believes it is safe.
The MHRA has to assess all the data and also ensure a vaccine works and that all the necessary trials and checks have been completed.
lab and clinical trial results
manufacturing and quality controls
product sampling
testing of the final product
The MHRA will do this as quickly as possible without cutting corners, because these vaccines are a priority.
It will also seek advice from another independent body, the Commission on Human Medicines, before advising the government on a potential vaccine.
The Pfizer-BioNTech vaccine team has handed all its trial data to the MHRA to be assessed.
The Oxford-AstraZeneca team is likely to do the same soon, and other vaccine developers will follow.
Companies have continually been sending trial data to the regulator, which should also shorten the process.
At this point, no-one knows which vaccine will be approved first.
In the event the UK has a choice, the JCVI would decide which vaccine should be used for different groups of people.
Will everyone be vaccinated?
The eventual aim is that as many people as possible receive a Covid-19 vaccine.
If everyone over 18 in the UK is offered one, that would be more than 50 million people – a huge challenge.
There is no timeframe on this momentous task, but it's clear that's the long-term plan in 2021.
The NHS has plenty of experience delivering vaccines to huge numbers of people, for example this winter's flu jab should reach 30 million.
A Covid vaccine won't be compulsory though – no other vaccines in the UK are, and experts say this approach doesn't help create confidence in the vaccine.
At present, the government has ordered seven different types of vaccine and expects to receive 355 million doses, including 100 million of the Oxford/AstraZeneca one.
If everyone needs two doses, that would certainly be enough for every adult in the UK.