By Andrew Picken
BBC Scotland News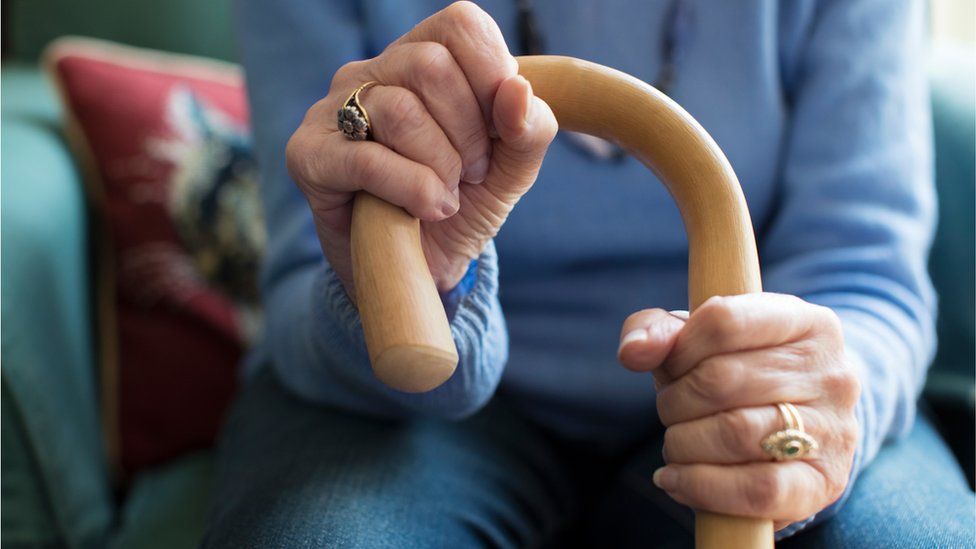 A special Crown Office unit set up to probe Covid-linked deaths is investigating cases at 474 care homes in Scotland, the BBC can reveal.
The unit was set up in May to gather information on the circumstances of all deaths in care homes.
Prosecutors will eventually decide if the deaths should be the subject of a fatal accident inquiry or prosecution.
Care homes say the investigation is "disproportionate" and placing a huge burden on overstretched staff.
The Covid-19 Deaths Investigation Team (CDIT) had received 3,385 death reports as of Thursday.
The majority of them relate to people who lived in care homes.
The probe into Covid deaths, also known as Operation Koper, is gathering information on the circumstances of deaths at 474 care homes in Scotland.
'I feel like I've not grieved properly'
Behind the Crown Office statistics are hundreds of families grieving for loved ones who died in Scotland's care homes.
Alan Wightman's 88-year-old mother Helen died in May last year during a Covid outbreak at Scoonie House in Fife.
Helen's death is part of the Crown Office probe and Mr Wightman's hopes for the investigation are that it looks "at the bigger picture and appreciates that on the ground people were doing the best they could".
He added: "I thought that Scoonie House did the best they could in a very difficult situation, sourcing their own PPE and stopping people coming from hospital.
"My own view is that care homes were put in an impossible situation because we had successive governments which did not properly prepare for a pandemic, you only have to look at the lack of PPE at the beginning of the pandemic to see that."
'We need this investigation'
Linda Duncan's mother Anne, a care home resident in Edinburgh, died last April .
Ms Duncan, who is a lawyer for the BBC, was critical of the circumstances leading up to her 91-year-old mother's death and referred the case to the Crown Office probe.
Renaissance Care, which owns the Letham Park care home where Anne lived, has previously insisted it had strictly followed guidelines at the time.
Ms Duncan said: "I feel like I've not grieved properly, not been able to deal with it and I can't be the only one while all these questions about care homes have not been answered.
"A lot of the focus has been on the government response but we need this investigation to look at the private operators who run these homes, did they take all the steps they could have and did they call for help when they were in trouble?"
CDIT has a core team of 14 staff, including eight lawyers, who also work with other agencies such as the Care Inspectorate and Police Scotland.
Figures issued by the Crown Office on Thursday show it has now received a total of 3,385 death reports, including non-care home fatalities.
But many of these will include deaths retrospectively referred to CDIT rather than ones that have occurred in January.
'Wholly disproportionate'
Donald Macaskill, the chief executive of Scottish Care, which represents independent care homes, said the "timing, extent and unequal treatment of the care home sector" in the CDIT probe were causing "considerable distress" in the sector.
"Frontline staff and managers are spending huge amounts of time providing data and information for these investigations," he said.
"This would be challenging at the best of times but in the middle of a pandemic and with dozens of care homes fighting active outbreaks this has added to a real sense of exhaustion, dismay and disappointment.
"We believe these investigations are wholly disproportionate and are causing irreparable damage to the professional integrity of nurses and carers who are exhausted beyond measure in fighting the virus."
A spokesman for the Crown Office said: "CDIT receives and deals with those reports and will work with the relevant agencies to ensure that all necessary and appropriate investigations are undertaken and that each investigation progresses as expediently as it can."
The BBC is not responsible for the content of external sites.