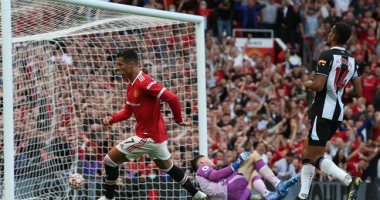 Portuguese star Cristiano Ronaldo led his Manchester United team to a great victory over Newcastle United, 4-1, in the match that brought them together yesterday evening, at Old Trafford, in the fourth round of the English Premier League competition for the current season 2021. -2022.
And the English newspaper "Daily Star" revealed in its report that Portuguese star Cristiano Ronaldo is chasing three new rewards with his arrival again to the ranks of Manchester United.
The newspaper reported that the Portuguese star has a basic salary of 475,000 pounds per week at Old Trafford, and the player's contract with Man United stipulates that he receives an additional 1 million pounds for any championship or title that will be achieved as United win the Champions League or if he wins the Golden Ball award or if He won the UEFA Player of the Year award.
The newspaper added in its report that he was getting nearly 900,000 pounds a week in total at Italian giants Juventus before his unexpected summer move to Old Trafford worth 19 million pounds and that the player made huge concessions to rejoin Manchester United.
And press reports had revealed that the sales of the Portuguese star Cristiano Ronaldo's shirt with Manchester United exceeded the sales of the Argentine shirt, Lionel Messi, the new Paris Saint-Germain star.
Cristiano Ronaldo scored the first goal for Man United against Newcastle United yesterday, in the 45th minute of the match, then Cristiano Ronaldo scored again, after adding the second goal for Man United in the 62nd minute of the match.