Portuguese international Cristiano Ronaldo, Manchester United player, set a new record in his career full of titles and achievements after being chosen in the starting lineup of his team against Villarreal, Spain, to be held at Old Trafford, at nine o'clock this evening, Wednesday, in the second round competitions. For the sixth group of the group stage of the Champions League for the current season 2021-2022.
Cristiano Ronaldo has become the record holder for the most participating player in the history of the Champions League, as he raised his score to 178 games, surpassing former Spanish goalkeeper Iker Casillas, who shared the number with him with 177 games each before today's match.
Ronaldo equaled Casillas' number after his participation in the last European confrontation against the Swiss Young Boys, where the Don scored his first appearance in the Red Devils shirt in the Champions League after returning to him during the last summer transfer period from Italian Juventus.
Cristiano Ronaldo is the all-time top scorer in the Champions League with 134 goals in 177 matches he previously played in the tournament before the Villarreal match.
The list of the most participating players in the history of the Champions League is as follows:
Cristiano Ronaldo – 178 games
Iker Casillas – 177 games
Xavi Hernandez – 151 games
Lionel Messi – 151 games
Raul Gonzalez – 142 games
Ryan Giggs – 141 games
Karim Benzema – 131 games
Andres Iniesta – 130 games
Sergio Ramos – 129 games
Clarence Seedorf – 125 games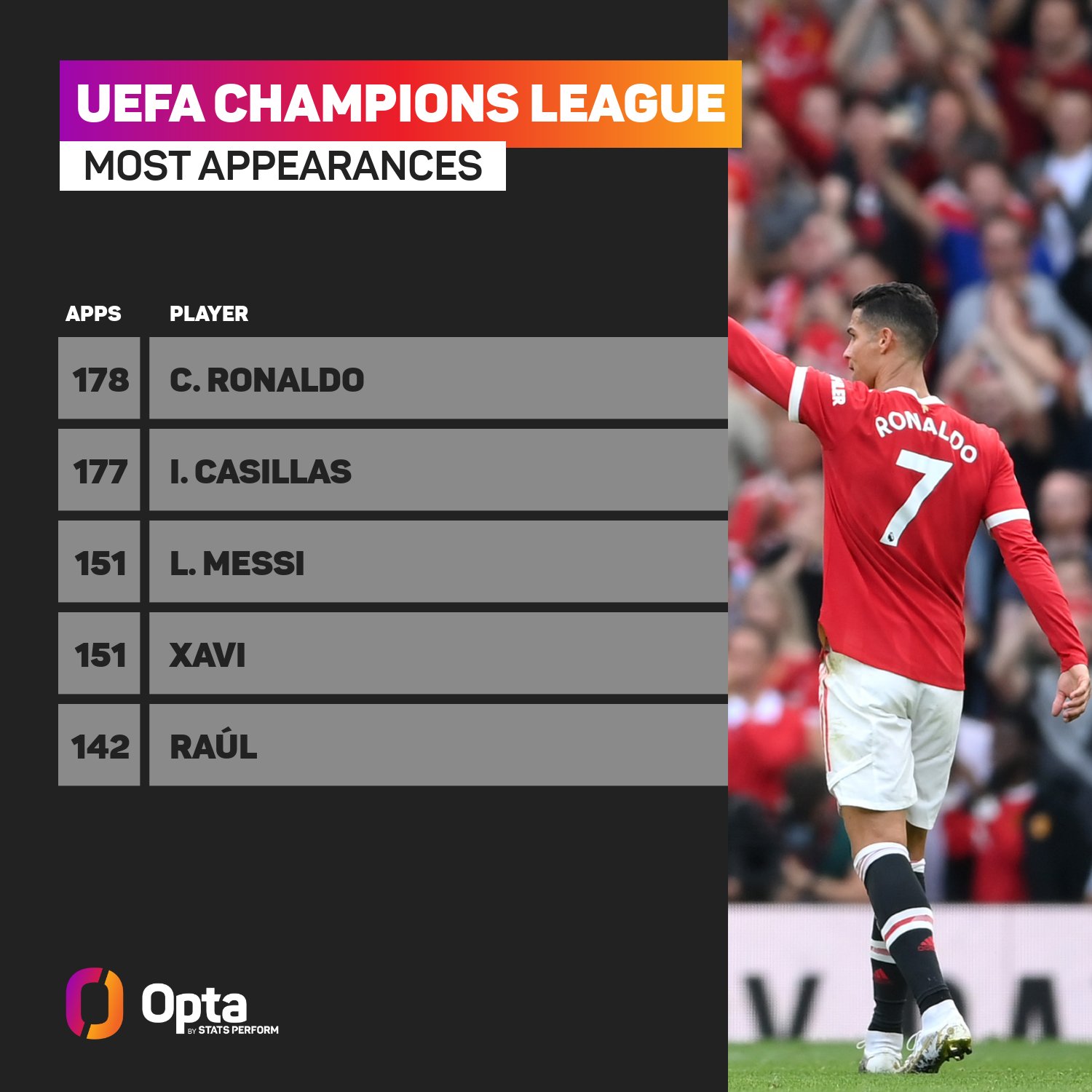 Ronaldo tops the list of the most participating players
Cristiano Ronaldo

Both teams are looking to end the European League last season, to overcome the bad start in the new season of the continental competition, as each of them failed to win in the opening round.
Manchester United fell to its Swiss counterpart, Young Boys, in the deadly time, with two goals against a goal, at the "Suisse Wankdorf" stadium, while Villarreal tied with Atalanta with two goals each.
The Manchester United lineup was as follows:
Goalkeeper: David de Gea.
Defense Line: Alex Telles – Lindelof – Raphael Varane – Diogo Dalot.
Midfield: Paul Pogba – Bruno Fernandes – Scott McTominay.
Forwards: Jadon Sancho – Cristiano Ronaldo – Mason Greenwood.
Man United are at the bottom of the Group F table without any points, while Villarreal and Atalanta are equal with Atalanta with a point each, while Young Boys are at the top with 3 points.