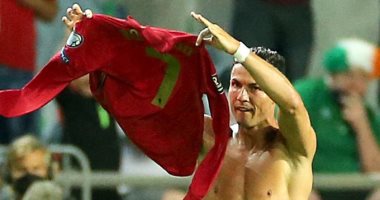 Portuguese star Cristiano Ronaldo left the camp of his country a few hours after yesterday's match against Ireland, which ended with the victory of the first with two goals, in the European qualifiers for the World Cup, in a match that witnessed the brilliance of the Don and his two consecutive goals that exceeded the number of goals of the Iranian international against Daei, becoming All-time top scorer with 111 goals.
According to the British "Sky Sports" network, Portugal announced the departure of Cristiano Ronaldo from the national team camp after receiving a second yellow card in the qualifiers yesterday against Ireland, and thus he will miss the Azerbaijan match next Tuesday in the qualifiers.
Ronaldo had received a yellow card in the face of the Portuguese national team against its Serbian host in the first round, in the match that ended in a 2-2 draw, in protest against not calculating his goal in stoppage time of the match for the ball crossed the goal line.
Portugal will face its Qatari counterpart in the European qualifiers on Saturday evening, in a match whose results will not be counted in the qualifiers, given the participation of Qatar (the guest in the qualifiers).
Portugal is at the top of the group with 10 points from 4 matches, 3 points ahead of Serbia, who played 3 matches, while Ireland is in fourth place without points from 3 matches.
The network indicated that Ronaldo will return to Manchester, in order to prepare to participate in the training of his new club, Manchester United, before playing the first match with the team on September 11 against Newcastle United in the fourth round of the English Premier League.
Ronaldo added the title of top scorer in the world teams, to the balance of his treasuries of titles and achievements.
The best scorer in football history with 785 goals.
The all-time top scorer with 111 goals.
The all-time top scorer of the European Nations Cup with 14 goals.
The all-time top scorer in the European Champions League with 134 goals.
Real Madrid's all-time top scorer with 450 goals.
Cristiano Ronaldo admitted that he could not have imagined breaking Ali Daei's amazing record for international goals.