British reports have monitored today that the Portuguese international, Cristiano Ronaldo, Manchester United's top scorer, who is returning to the team during the summer transfers, used a special guard team consisting of former police officers and soldiers to protect him during his travels there for fear of being attacked by fans who flock to him everywhere.
And according to the British newspaper "Daily Star", Portuguese Cristiano Ronaldo, Manchester United player, was seen, Thursday, arriving at the club's training headquarters, "Carrington", in a luxury "Bentley", followed by two of his bodyguards.
Norwegian coach Ole Gunnar Solskjaer excluded Ronaldo from the list of the team that faced West Ham United in the "Carapua" Cup on Wednesday, which ended with the loss of the "Red Devils", and their exit from the tournament.
Ronaldo's appearance with bodyguards is not the first. Earlier this September, Cristiano Ronaldo was photographed with the team's delegation on their way to Switzerland to face Young Boys, in the Champions League competitions.
Press reports indicate that Ronaldo has hired security guards, including former soldiers and officers, to protect him from any attack.
Ronaldo returned to Man United 12 years after his departure this summer, moving from Juventus on a two-year contract with the option of a one-year extension, and the Portugal captain initially joined the Red Devils in 2003 from Sporting Lisbon in a transfer deal of 12.2 million pounds, He won the English Premier League three times, the European Champions League once, and the FA Cup once, then Ronaldo joined Real Madrid for 80 million pounds, where he became one of the greatest players of all time..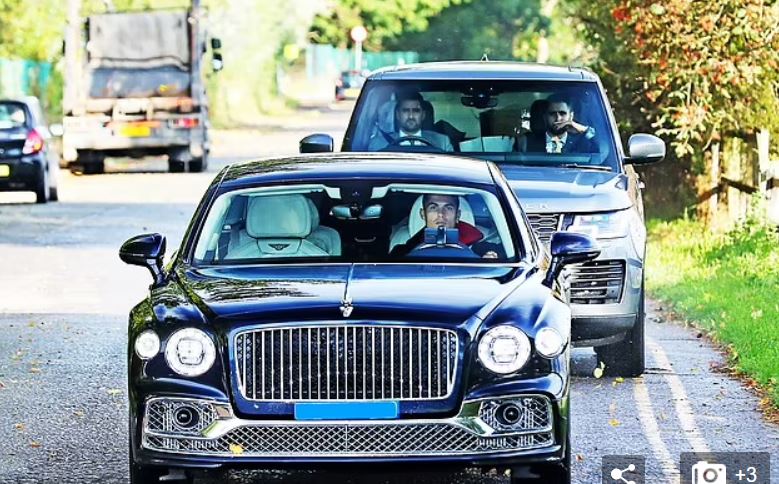 Cristiano Ronaldo