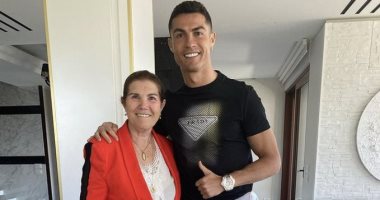 Dolores Aveiro, the mother of Portuguese star Cristiano Ronaldo, striker of the Manchester United team, wished to see her son in the first shirt of his first team, Sporting Lisbon, Portugal, again, before she dies.
Dolores said in an interview.ADN de Leão"For me he will already be here, he loves to watch Sporting matches, I already told him: 'Son, before I die I want to see you come back to Sporting.'"
And about Ronaldo's reaction to this request, his mother said: "He told me to see," but if he does not return, his son plays better than Ronaldo.
She added: "When he was young, Ronaldo did not have a coach, but today he is his son's teacher, and he has already told him: 'Dad, when we move to Lisbon I want to play for Sporting'." Now he started in Manchester, my dream was to see them together in Sporting. It was amazing".
Asked if Cristiano was close to Manchester City?, she replied, "No, on TV there was talk about Manchester City, but he told me my mom, don't worry about what they say, because I'm going to Manchester United, I enjoyed seeing the stadium filled with 75 A thousand people, singing his name was a great emotion."
The 36-year-old Portuguese star, Ronaldo, returned to Manchester United from the Italian team Juventus, with a two-year contract, during the last summer Mercato, after he left Old Trafford, in the summer of 2009, towards Real Madrid. Ronaldo scored 4 goals in the United shirt in 3 matches in various competitions.