International star Dakota Johnson participated in the special screening of her movie The Lost DaughtersDuring the activities of the Venice Film Festival, on the third night of the festival, on Friday evening, "Dakota" plays the role of a mother named Nina in the film's events, in her first appearance with director Maggie Gyllenhaal.
Dakota Johnson drew the attention of the audience with her semi-transparent dress, which completed her look with a lot of dangling jewelry and "tassels" that looked like gold threads, and Dakota looked very sexy when she arrived to attend the premiere of her movie. The Lost Daughter during the festival.
Dakota Johnson at the Venice Film Festival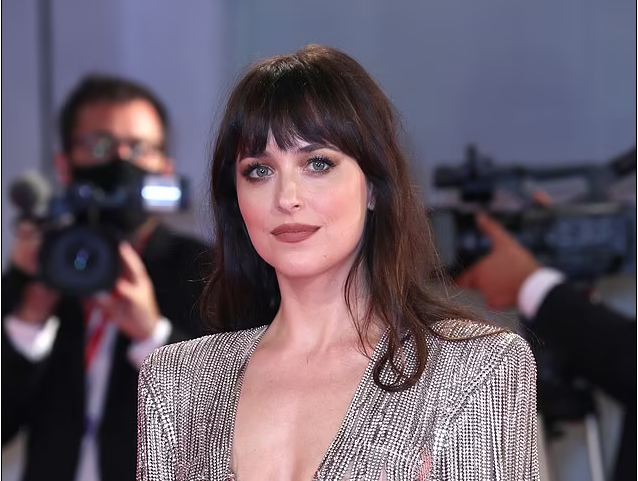 Dakota Johnson
International actress Olivia Colman also attended the premiere of the movie The Lost DaughtersThe 47-year-old actress looked elegant in a velor black and silver suit.
The film is directed by Maggie Gyllenhaal, written by Maggie Gyllenhaal, based on the novel by Elena Ferrante, and stars Peter Sarsgaard, Dakota Johnson, Jesse Buckley, Olivia Colman and others.
In the context of the drama, the journey of a young woman on the beach takes a dark path when she begins to encounter troubles from the past and becomes obsessed with an unconventional obsession with a woman and her daughter during the summer vacation.
It is noteworthy that the photographers' lenses, two days ago, spotted the arrival of the star Jessica Chastain, and her husband Gian Luca Passi de Preposolo in Venice, to attend the festival's activities and to promote her new series. Scenes from a MarriageWhere they went to have a drink and return again to follow the events, and the duo appeared with the world's number one tennis player Maria Sharapova and her husband, British businessman Alexander Gilkes, to have a drink with them and enjoy the sights of the Italian city.
The Venice Film Festival opened on Wednesday with the screening of Pedro Almodovar's film… Parallel Mothers or –Madres paralelas – , a Spanish movie starring Penelope Cruz, Melina Smit, Israel Eligalde and Aitana Sanchez Gijon, with the participation of Julieta Serrano and Rossi de Palma.
Movie Parallel Mothers It deals with the story of two women, Janice and Anna, who happen to be in the same hospital room where each is going to give birth..
Films are also competing in the official competition Mona Lisa and the Blood Moon And Un Autre Monde And The Power of the Dog And America Latina And L'Evenement And Official Competition And Il Buco And Sundown And Illusions Perdues And The Lost Daughter And Freaks Out And Qui Rido Io And On the Job And Leave No TracesAnd Captain Volkonogov Escaped And The Card CounterAnd The Hand of God And Reflection And La Caja.