Perseverance, effort and diligence were the strong motives in the journey of Rahma Maher, the 19-year-old who, despite her early start, was able in a short time to reach the goal and even desires to reap more gains after becoming a Kung Fu champion in addition to her practice of plastic art, which helped her strongly. She studies in vocational high school, and is striving to fulfill her dream of joining the College of Engineering.
Rahma, the daughter of Damietta Governorate, told "The Seventh Day" that she started playing karate when she was 6 years old, and with great encouragement from her father, who made every effort to reach her where she is now.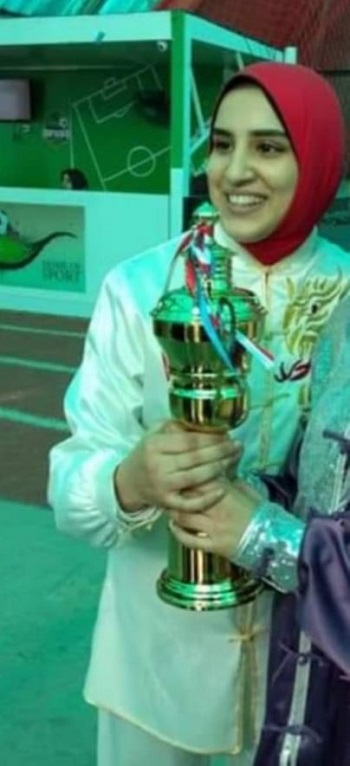 Winning the Karate Championship
Rahma obtained an Industrial Technician Diploma, with superiority that qualifies her to enter the Faculty of Engineering, her biggest dream, as she talked about, and she said: "I obtained many certificates, the most important of them in the traditional Wushu Kung Fu Festival in Port Said, then the northern sector of the Alexandria region, the Champions Cup, and I got first place and then an area Cairo Capital Cup Championship Styles Tala'a El-Gaish Club has Seonm Tao Wing Chun styles, Shaolin stick, and many certificates and medals.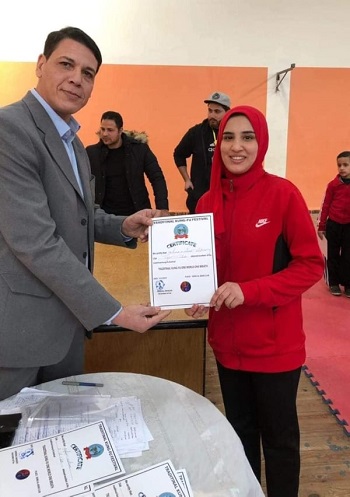 Mercy during the award
Regarding her studies, she said that she studied art, sculpture and embroidery in the technical secondary school, and for her love of art, she participated in several exhibitions inside and outside Damietta, saying that ambition will not stop as long as a person seeks to achieve his dream, and she continued: "I started with simple drawings a long time ago, and from here I started drawing pencils, charcoal and various drawings. For children, she developed and painted charcoal and participated in many festivals in the Damietta International Festival of Fine Arts, and the Nile Festival for Creators, and received prizes.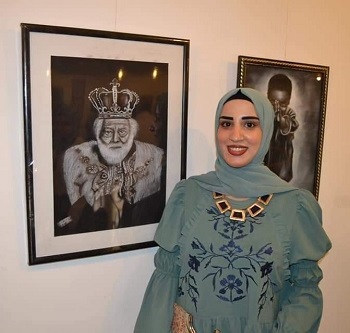 Rahma next to her paintings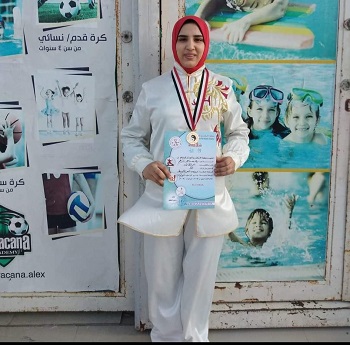 Rahma Kung Fu Champion
She added that there is no low view of technical education, but that it is on the right path, and contrary to what is expected, its graduates enroll in top colleges such as art and engineering colleges to achieve their dreams.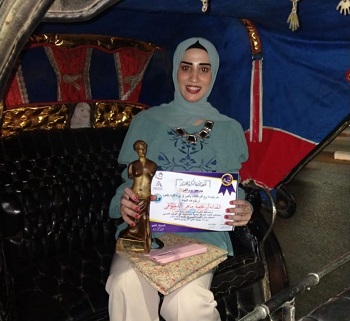 Mercy and Creativity Award