Brazilian star Dani Alves, a former Barcelona and Paris Saint-Germain player, announced that he would not sign for any club until the end of the year, and posted a picture of him through his account on the Instagram website, sending a message to his fans and followers after leaving the Brazilian club Sao Paulo.
Alves said in the post he had just published: "I chose not to sign with any club for the rest of the year. I came to Brazil for a child's dream, and the dream came true. Being a hero with the Heart Club is priceless. It's about masculinity, it's about character, it's about legacy."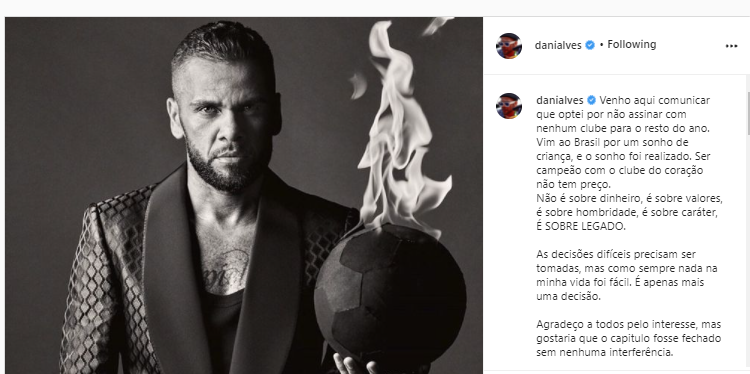 Dani Alves
And Alves added in the post: "I thank you all for your attention, but I would like to close the class without any interference, I know that many things have been said, but the truth is only one, I came here for a dream and I leave here with fulfillment, thank you very much."
And Sao Paulo club had previously announced, through its official accounts on social media, the termination of its contract with its veteran Brazilian defender Dani Alves, and said that his player, Dani Alves, refused to attend the training, and stipulated that he receive a two million debt resulting from the delay in paying his salaries in order to continue with the team.
"São Paulo FC announces that it has signed an agreement today to terminate the contract of the player Dani Alves, who had a contract with the club until December 2022," the club wrote in a statement.
It is noteworthy that Alves defended the colors of Barcelona, ​​Juventus and Paris Saint-Germain, in his professional career in the continent of Europe, and Alves and Miranda, the center of the defense of the Sao Paulo team, were participating with the Brazil national team during the last international break that took place from 2 to 9 September.