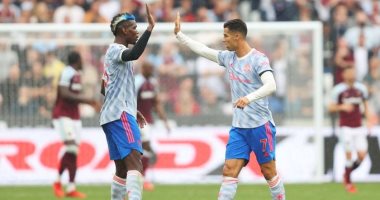 Manchester United snatched a precious victory over West Ham 2-1 in the match that brought the two teams together this afternoon, Sunday, in the fifth round of the English Premier League, at the London Olympic Stadium.
The first half witnessed an exciting match between Man United and West Ham, the hosts, as each threatened the other's goal with more dangerous balls.
Said Benrahma advanced in favor of West Ham in the 30th minute, with a powerful shot that hit Frenchman Raphael Varane to block De Gea's net.
Cristiano Ronaldo scored the equalizer against West Ham, in the 35th minute of the first half.
With the start of the second half, Cristiano Ronaldo missed a certain goal for Man United after completely alone with the West Ham goalkeeper, as the ball hit him and turned into a corner.
Cristiano Ronaldo was fouled by a West Ham defender inside the penalty area, but the match referee overlooked a penalty kick for the Portuguese star.
For the second time, a West Ham defender caught the Portuguese star Cristiano Ronaldo during a cross ball inside the penalty area, but to no avail.
In the 89th minute, Jesse Lingard scored Manchester United's second goal against West Ham, with a wonderful shot.
West Ham did not give up, and intensified his pressure on United, until he got a penalty kick, but David de Gea of ​​West Ham's Noble saved it with a wonderful save and leads the Red Devils to a win for Ghali.
With this result, Manchester United's balance rises to 13 points in the English Premier League standings, with a goal difference from leaders Liverpool, while West Ham's balance freezes at point 8 in eighth place.