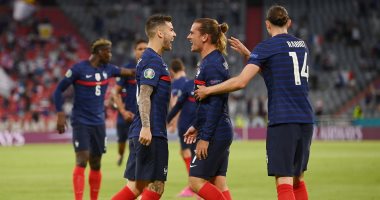 France coach Didier Deschamps has called up Marseille's Matteo Guendouzi and Juventus's Adrien Rabiot to the world champion's squad to replace Chelsea's midfielder N'Golo Kante and Bayern Munich's Corentin Tolisso during the World Cup qualifiers.
The French national team will play 3 matches in the coming period, during which it will face the teams of Bosnia, Ukraine and Finland, respectively.
Manchester United trio Raphael Varane, Paul Pogba and Anthony Martial have been called up for the France national team for the upcoming matches.
In a related context, the French national team will host its counterpart Bosnia and Herzegovina, in the confrontation scheduled to take place at 9:15 pm today, Wednesday, at the El Mino stadium in Strasbourg, as part of the fourth round of European qualifiers for the 2022 World Cup in Qatar.
France, led by coach Didier Deschamps, enters today's match as it leads the standings of Group D in the European qualifiers for the World Cup, with 7 points, while Bosnia and Herzegovina occupies fourth and penultimate place with one point.
France leads the standings by 3 points from runner-up Ukraine, while Finland comes third with two points, while Kazakhstan is at the bottom of the standings with one point.
The roosters collected 7 points in their journey towards the 2022 World Cup, where they achieved two victories against Kazakhstan and Bosnia and Herzegovina, in addition to a single draw at the beginning of their campaign against Ukraine, and their players scored 4 goals and conceded one goal.
On the other hand, Bosnia and Herzegovina scored one point from a draw with Finland in the first round with two goals each, while it fell to France.
The French national team won the last round at the expense of its host Bosnia and Herzegovina, with a clean goal, at the "Grbavika Stadion", in the third round of competitions.
The France list announced by coach Didier Deschamps included Manchester United trio Raphael Varane, Paul Pogba and Anthony Martial, in addition to Karim Benzema and Kylian Mbappe, and Theo Hernandez was called up, while Giroud was excluded in the next stoppage.
The list of France national team to face Bosnia, Ukraine and Finland is as follows:
Goalkeepers: Lloris, Minyan, Mandanda
Defenders: Diboa, Dene, Kimpembe, Conde, Varane, Zouma, Theo Hernandez
Midfield: Chuamini, Pogba, Kante, Tolisso, Veritot
Attack: Mbappe, Benzema, Coman, Diaby, Griezmann, Lemar, Martial.