Billionaire Mark Laure defined the specifications of a future new city in the United States of America, to include 5 million residents, to include the cleanliness of the Japanese capital, Tokyo, social services in Stockholm, and the diversity of New York City, and he appointed a famous architect to design it, according to these criteria.
CNN Arabia revealed that the city's design needs $400 billion in financing. The billionaire revealed his plans for a city Telosa, a sustainable city he hopes to create, from scratch, in the American desert.
The ambitious proposal, whose area is 150,000 feddans, and the architecture is designed in an environmentally friendly way, sustainable energy production and drought-resistant water system, and called the city a conceptThe "15-Minute City" allows residents to reach workplaces, schools, and utilities within a quarter of an hour from their homes.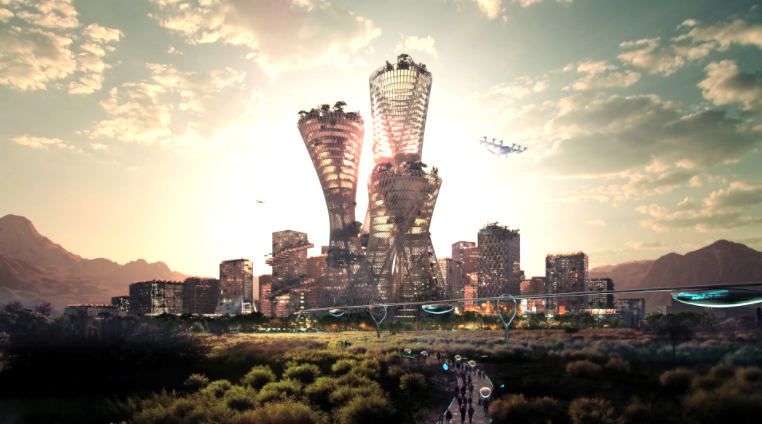 city ​​design
Although planners are still searching for the right location, potential options include Nevada, Utah, Idaho, Arizona and Texas.
The advertisement is accompanied by a series of digital visualizations by a group Bjarke Ingels Group (BIG), which is the architecture firm chosen to realize Laure's dream.
Some imaginary pictures of the city, showing Residential buildings covered with trees and abundant open spaces for residents, the concept includes a ban on fossil vehicles, and Self-driving vehicles, driving on sunlit streets alongside motorbikes and pedestrians.
There is another image of a proposed skyscraper, called a tower Equitism, which has been described as "a beacon to the city". The building is distinguished by its high water reserves, wind farms, and a photovoltaic roof for energy production that allows it to "share and distribute everything it produces."".
The first phase of construction includes buildings that can accommodate 50,000 residents on an area of ​​1,500 acres, at an estimated cost of $25 billion, The entire project is expected to exceed $400 billion, with the city reaching its target population of 5 million within 40 years.
Project organizers said the funding would come from "various sources," including private investors, donations, federal and state grants, as well as economic development subsidies. Planners hope to welcome the first inhabitants by 2030.
The name of the city comes from the ancient Greek word "telos"It is a term used by the philosopher Aristotle to describe an intrinsic purpose or a higher purpose, as a city would allow residents to "participate in decision-making and budgeting."".