Austrian police discovered the body of an eighty-year-old woman who died more than a year ago, as her son mummified her inside a basement in the Tyrol region, because he wanted to continue to receive social benefits allowances allocated to her, and it turned out that the son hid his mother's body even though she died in June 2020 and kept it. So that he continues to receive a monthly sum that goes out to the old lady.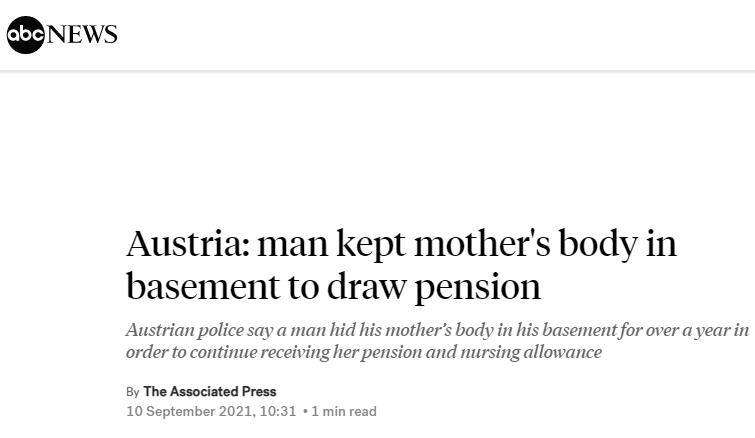 The topic is from the abc news network
And the Austrian police said, in a statement, that investigations revealed that this 89-year-old woman died in June 2020, and the 66-year-old man kept her body in order to continue receiving benefits for her, and the suspect confessed when the police stopped him that he froze the body of his mother, who was living with her. near Innsbruck to ensure that no smell is emitted from it, according to the network ABC News.
The son recounted how he kept his mother's body for a year, as he froze the body and wrapped it in bandages to absorb body fluids, then covered his mother with a layer of cat litter, after which the body was embalmed.
And the Austrian police revealed that the real man was telling his other brother when he was asking him about their mother's situation that their mother was suffering from dementia and her family's lack of awareness of her, and she was hospitalized.
The crime was exposed when a new postman, who was delivering monthly allowances to him, asked to see the beneficiary of social benefits, but the son refused, so the courier only submitted a report on the matter, and the police discovered the body, last Saturday, and the police charged the son with fraud. On social benefits and hide a corpse.