Press reports revealed today, Sunday, the details of the contract of the Brazilian Neymar da Silva, the star of Paris Saint-Germain, after the French club managed to sign him after breaking the penalty clause in his contract with Barcelona..
Paris Saint-Germain paid Barcelona 222 million euros, the value of the release clause in Neymar's contract in the summer of 2017, making him the most expensive player in the history of football.
According to the Spanish newspaper El Mundo, which reviewed the details of the Brazilian star's contract, the deal amounted to a total of 489 million and 228 thousand and 117 euros..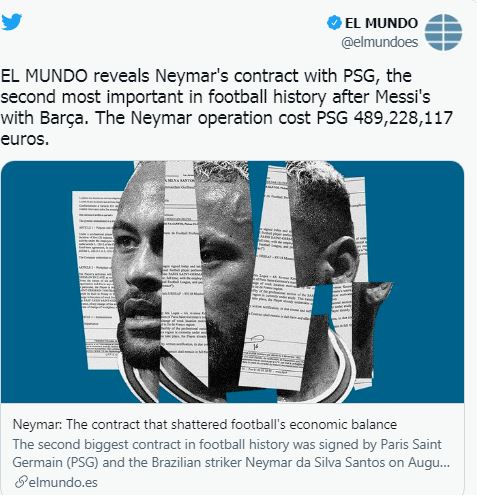 The newspaper added, the contract included an annual salary for 5 seasons of 43,334,400 million euros, and in the sixth season he gets 50,556,117 euros if he continues his career in the team.
According to the newspaper, the contract obtained by the Brazilian Neymar is considered the second most expensive player contract in the world behind the last contract of Argentine star Lionel Messi, accompanied by Barcelona, ​​​​which expired at the end of his contract and his free transfer to Paris Saint-Germain.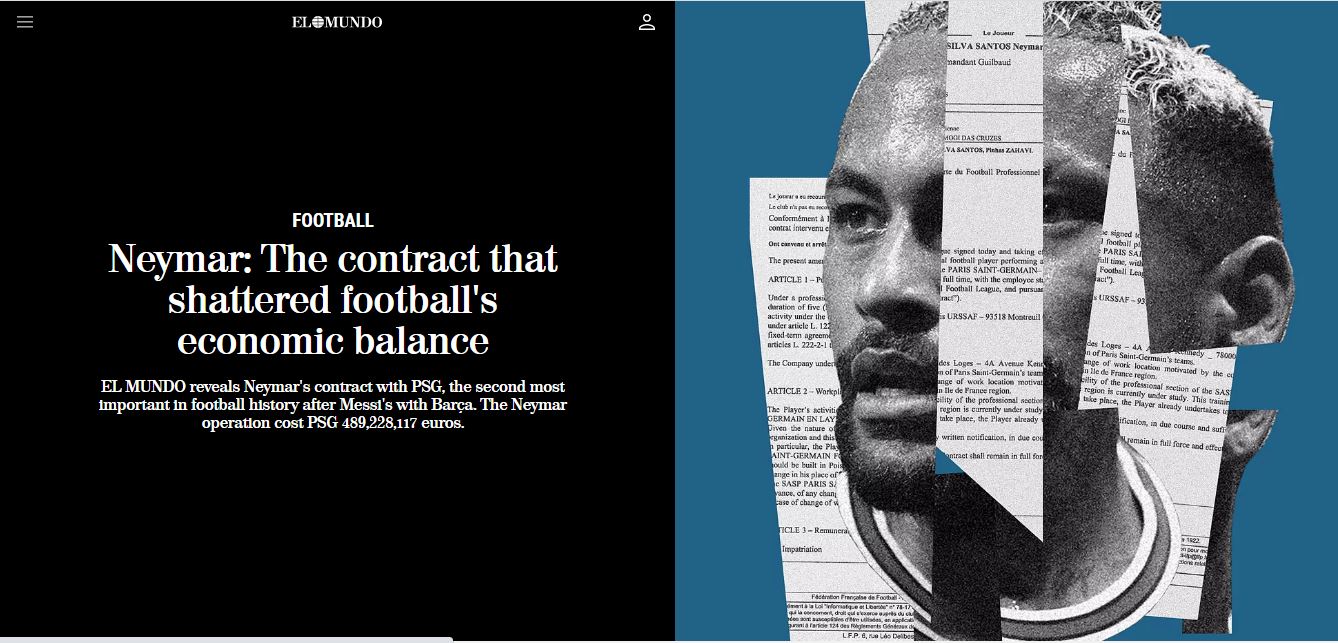 And El Mundo continued, the agreement also included the renewal of the contract in an automatic manner after the sixth season for an additional season until the summer of 2023, and this clause is implemented by the Brazilian star, knowing that the two parties reached an agreement recently to extend Neymar's contract until the summer of 2025..
And El Mundo claimed, the new contract for the Brazilian Neymar, which he recently signed, was made on the same financial terms in the last year of his previous contract..
Paris Saint-Germain also obtained the exploitation of all the image rights of the Brazilian Neymar in exchange for a payment of up to 30 million euros, which makes the French team at risk of exceeding the law of fair financial play in light of its high salaries, most notably Lionel Messi and French Kylian Mbappe if his contract is renewed..
In general, Neymar's move to Paris Saint-Germain, the French club, cost 489,228,117 million euros.
Despite the fact that Neymar's career with Paris Saint-Germain witnessed his absence several times due to injury, but his numbers are good, he scored 87 goals and provided 52 assists in 117 meetings and led the team to win 3 French League titles, 3 French Cups, 3 French Super Cups and two League Cup titles. The team is the final of the Champions League in 2020, but Bayern Munich deprived the Qatari project of success, in what has become an obsession for them, which is winning the most important European title for clubs..