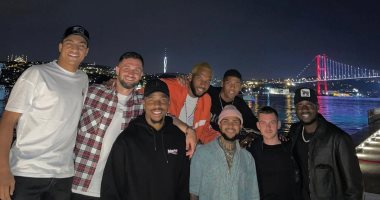 The player, Mustafa Mohamed, player of the Turkish club Galatasaray, his followers and fans, shared a photo through his personal account on the "Instagram" website, which he gathered with his friends in the team after they had dinner together after his return to Turkey after the end of his international participation with the Egyptian team.
AndFatih Tarim, the technical director of the Turkish Galatasaray team, launched a fiery attack on the Egyptian international striker, Mustafa Mohamed, warning that he will continue at the same level he is presenting during the current period, as the player has moved away from scoring during the current year, despite his success in proving himself in the period that Spent during the last season.
A newspaper report said,mynet"Turkish, a meeting took place between Fatih Tarim and Mustafa Mohamed in which the first expressed his desire for the player to return to his usual level, or that his fate would be to return to the Zamalek club again.
The newspaper added that Fateh Tarim told Mustafa Mohamed: "If you want to play in France or the Turkish League, you must do what I tell you, otherwise the team that you will leave for from here will be Zamalek, Nobody wants you like that, if you don't recover, you'll play for your former club next season.".