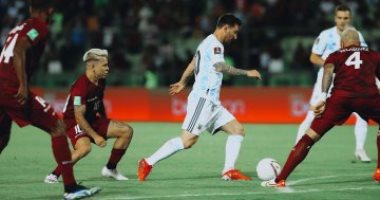 French press reports revealed the position of the Argentine international, Lionel Messi, the captain of the Argentine national team, from participating in the Brazil match, scheduled for nine o'clock in the evening, Sunday, September 5, in the eighth round of the South American qualifiers for the World Cup.
Messi was injured during his participation in Argentina's 3-1 victory over Venezuela, in the match that brought them together at the "Olympico de la Ciudad Universitaria", as part of the seventh round of the 2022 World Cup qualifiers in Qatar, but he completed the match.
The first examinations proved that Messi does not suffer from a strong injury, and only suffers from a large wound under the left knee.
And "Le Parisien" stated that there are no doubts about Messi's presence in the Brazil match, especially since the Argentine star completed the match until the end after Martinez intervened on him.
The Argentine team hopes to confirm its superiority against the samba stars in order to promote early qualification for the World Cup.
Brazil raised its score to 21 points at the top of the South American qualifiers table, after defeating its host Chile, with a clean goal, in the meeting that brought them together in the early hours of Friday morning, at the "Monmental David Orlano" stadium, in the capital, Santiago, in the ninth round matches. from the playoffs.
Brazil is 6 points ahead of runner-up Argentina, with 15 points, who beat Venezuela 3-1.