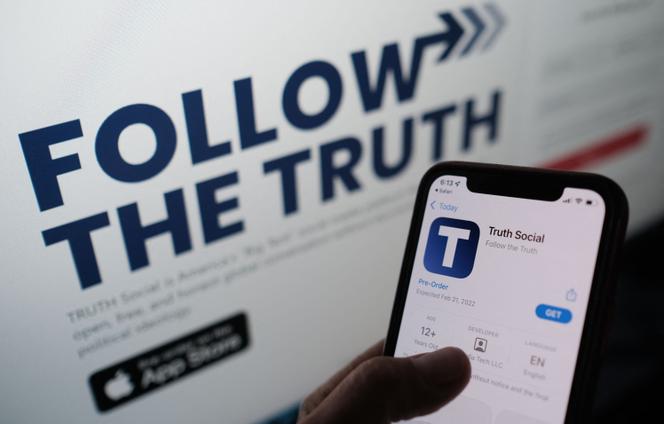 Banned from Twitter, Facebook and YouTube for inciting his supporters to violence during the assault on the Capitol on January 6, 2021, Donald Trump will be able to find his voice on social networks from February 21, 2022. It is on this date that the launch of Truth Social is announced on the Apple application store, the App Store, the platform created by the former US president.
Read also
Article reserved for our subscribers

Joe Biden overwhelms Donald Trump one year after storming Capitol Hill
When announcing the creation of this social network, the former tenant of the White House, who had 35 million subscribers on Facebook and 24 million on Instagram before being excluded, said he wanted "Resist the tyranny of the giants of technology", who have "Used their one-sided power to silence dissenting voices in America".
Truth Social's parent company, Trump Media & Technology Group (TMTG), teamed up with an already listed vehicle, Digital World Acquisition Corp, to raise $ 293 million (260 million euros) in September on Wall Street. The two groups then announced in early December that they had obtained another commitment to the tune of one billion dollars.
Read also
Article reserved for our subscribers

"In the United States, we are witnessing a massive tidal wave of white power militancy"
A crowded market
In total, by removing the transaction fees, TMTG has about $ 1.25 billion to attack its competitors in the already very crowded market of social networks popular with ultra-conservatives.
The Gettr platforms – launched at the beginning of July by Donald Trump's former adviser, Jason Miller – but also Parler and Gab, have already positioned themselves with the supporters of the former president as guarantors of freedom of expression, escaping the censorship of mainstream social networks.
Gettr just scored a point thanks to a tweet from host and comedian Joe Rogan, whose podcast is the most popular in the world, who called on his subscribers to join him on the platform on Sunday.
Also listen A year later, what do we know about the attack on the Capitol in the United States?