Very exciting confrontations in the Spanish League matches in the coming period, which culminate in the tenth round, when Barcelona hosts its eternal rival Real Madrid on October 24, 2021 at four in the evening.
And before that, the defending champion Atletico Madrid collides with the Catalan giants Barcelona on Sunday, October 3rd.
After the end of the seventh round of the Spanish League season 2021/22, Real Madrid comes at the top of the Spanish league standings with 17 points, one point behind Real Sociedad, the runner-up, and Seville comes in third place with 14 points, then Atletico Madrid in fourth place with the same Balance of points.
As for Barcelona, ​​it occupies sixth place after winning Sunday with 12 points, one point behind Rayo Vallecano, who is fifth with 13 points.
Every season, the Spanish League witnesses classic confrontations awaited by La Liga fans all over the world, such as the Clasico between Real Madrid and Barcelona, ​​in addition to the Madrid derby confrontations between Real and Atlético and the confrontations of Barcelona against Atletico Madrid..
The most important dates for adults in the Spanish League are as follows..
Barcelona x Real Madrid, round ten, October 24, 2021
Real Madrid x Atlético Madrid, Round 17 December 12, 2021
Barcelona x Atlético Madrid, round 23, February 6, 2022
Real Madrid x Barcelona Round 29 March 20 2022
Atletico Madrid x Real Madrid, Round 35, May 8, 2022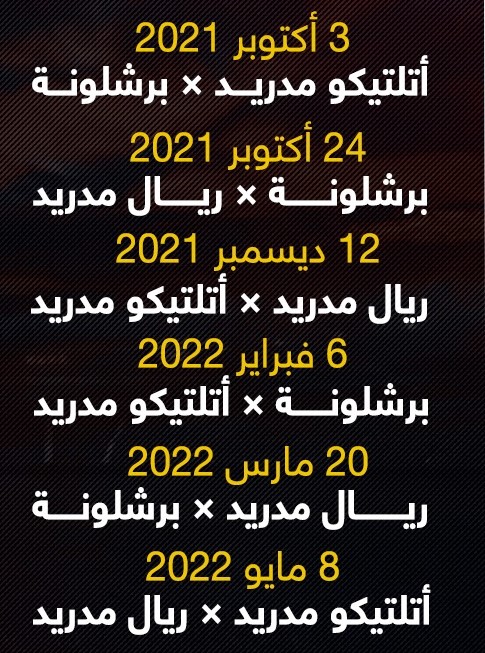 The new season of the Spanish League 2021-2022 began on August 15, and ends on May 22, 2022, and the draw resulted in confrontations and fiery clashes in the Spanish League.
The new season witnessed the return of Espanyol clubs, Real Mallorca and Rayo Vallecano, after their promotion from the second division..